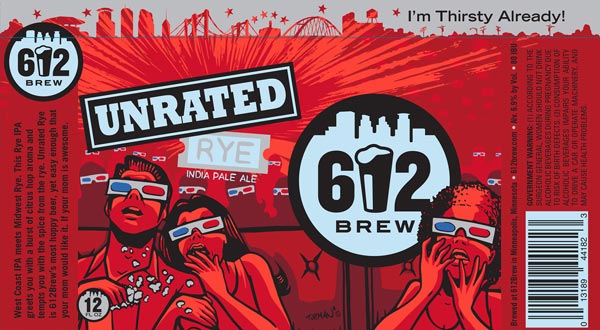 So have you heard the one about the brewery who named their beer "Rated R" (for rye), only to find that the MPAA wasn't crazy about it and filed a cease and desist? Indeed (no, not them) it's true for 612 Brew.
That, however, isn't what this piece is about. No siree. Instead, let's talk about some cans. Our friends at 612 Brew are on the verge of releasing some beers in 12 oz. cans with some beautiful artwork from none other than Adam Turman.
We cornered 612 Brew's Robert Kasak at the donut shop and begged him for the inside track on canned beer at the brewery. Here's what he had to say.
Cans?
Yes – we received the canning line 2 weeks ago from Wild Goose in Colorado and the cans last week.
…and when can we get said cans?
You can find 612Brew in cans on shelves stating February 16.
Why cans?
Since we began writing the business plan, cans have always been in the works. We only had a finite amount of money to spend when we started the brewery so we could either focus on building a world class taproom or build a canning line. We opted for the former. We chose cans because we think the packaging is best suited for the lifestyles of us and our beer drinkers. We love drinking cans of beer at the beach, on the golf course or simply at the back yard get together. The light weight packaging and recyclability are great for taking the beers with you up to the cabin, and of course bringing them back home to recycle them. Lastly, in our opinion, cans provide a better package for our beer and the shelf life of the beer. All 612Brew is unfiltered and unpasteurized therefore we need to have our beer in a light free package. Cans are truly the best option for that.
Nice work. We can't wait to pop one or four of these open!