Gone are the days of the humble Dome Dog and a Budweiser, after all it is 2016. The inaugural lineup of food options at US Bank Stadium are gonna be a hit, especially the local options. The beer….well that wasn't available today. This is most likely due to the MillerCoors sponsorship which I'm guessing doesn't allow for them to showcase the wonderful craft beer we have here in Minnesota.
But we were given a list of the local beer options that will be available. Summit, Surly, Fulton, Lift Bridge, Bauhaus, Castle Danger, Fair State, NorthGate, 612 Brew, Lake Monster, Sociable Cider Werks, Insight, and Finnegans will all be sold at the stadium in its first year of operation.
Local food partners featured at the stadium will be AZ Canteen, Be Graceful Bakery and Catering, Cinnie Smith's, Curds and Cakes, Ike's Food and Cocktails, Kramrczuk's Sausage Company, Lola's Cafe, Prairie Dogs, R Taco, and the much anticipated Revival Restaurant.
So how was the food? Well let's dive in to some of today's winners:
First up were the Lemongrass Meatballs from Rainbow Restaurant. These were tasty and will be a welcomed treat for those trying to avoid typical stadium fare.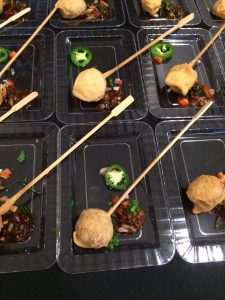 Next were the Smokey Nachos from Icehouse Minneapolis. A nice take on a stadium staple that would pair well with a Lonely Blonde from Fulton. Smokey meat paired with real cheese sauce. If the price is right, this might the item to get if you're planning to share.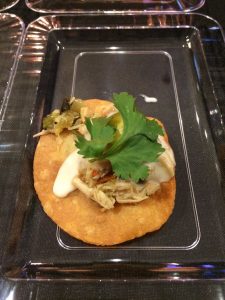 The Jerk Bacon Sammie from Smalley's Caribbean might go overlooked with all of the options. Our advice, don't sleep on this slaw topped, thick-cut bacon sandwich. One of the best items on the menu today. Pair this spicy treat with a either an EPA or Saga from Summit.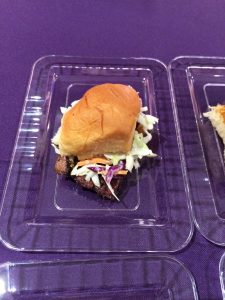 Prairie Dogs is offering a Chicago Dog and a Skol Dog. The Chicago Dog (pictured below) was pretty standard while the Skol Dog (topped with purple potato chips and bacon jam) impressed with its presentation and the smoke infused jam. Go with the Skol Dog and pair it with a Farm Girl from Lift Bridge.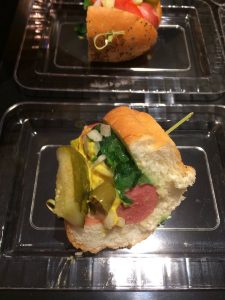 Kramarczuk's makes amazing sausage so these (Andouille, Cheddar Wurst, Bratwurst) are a no brainer if you're looking for standard stadium food. Get the standard brat topped with kraut and pair it with a Wonderstuff from Bauhaus. This is guaranteed to make any Packer fan jealous.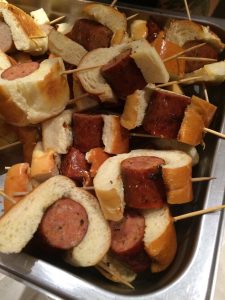 The Italian Porchetta Sandwich from AZ Canteen is something you don't wanna miss. A top 3 menu item today. Perfectly seasoned and topped with enough greens to make up for the saturated fat. This would pair up nicely with a Parapet ESB from NorthGate.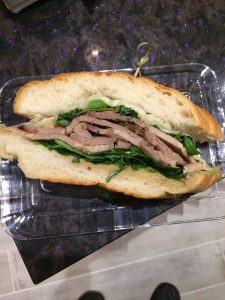 The much anticipated Spicy Fried Chicken Sandwich from Revival is the real winner today. This juicy chicken sammie is delightfully crunchy, and is plenty spicy for those who have a palate for that sort of thing. Pair this up with a Surly Furious which will stand up tall to the heat. Be sure to order the mild if you are sensitive to spicy foods.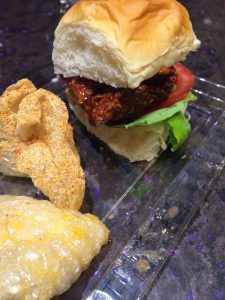 Now for the not so great:
The Murray's Short Rib Sandwich was a bit disappointing. This was tasty but was fairly dry. Dry enough where the coleslaw it was topped with couldn't save it. The cost is probably also going to be a factor with this one.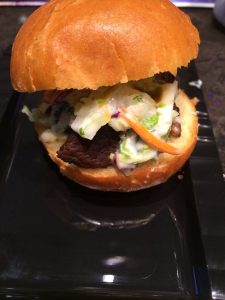 The R Taco is a good option if you are looking for something a bit lighter, but this thing is messy. The last thing you want to deal with while rubbing elbows with drunk strangers is pulling shredded pork and diced onions out of your beard. If you do go with this, wash it down with a Hell Chicken from Insight. The citrus from the yuzu fruit will play well with the shredded pork and accompaniments.
The Gramsky's Italian Grinder Sandwich was served at room temperature and was very heavy on the bread. By the time we got to this it was rather soggy and aside from the meat, was fairly bland.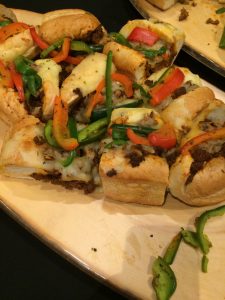 All in all, these were the best offerings of a stadium in town. Pricing will also be a determining factor when purchasing these menu items so you'll want to keep that in mind, especially if you're bringing a family of four. So what was missing? I think there are a few vendors out there that would be nice little additions to the lineup. All of them would be a great branding fit as well.
Vikre Distillery out of Duluth. Aquavit cocktails showcasing flavors of cardamom and caraway seed would be a welcomed addition to the nordic themed stadium shaped like a viking ship.
HammerHeart Brewing out of Lino Lakes makes bold, smoky beers that would take fans out of their comfort zone and introduce them to an old-world method of beer crafting. A crowd people head banging to Led Zeppelin's Immigrant Song with a Hammerheart beer in hand would be a sight to behold.
Northern Waters Smokehaus from Duluth. Imagine being able to order smoked fish and charcuterie made right here in the north country. It seems silly that we always go back to the standard stadium fare when these ingredients are sourced and readily available on the local level.
Whatever your tastes are, you're sure to find plenty of delicious heart stopping food on the menu at US Bank Stadium. But just know that nothing will stop your heart faster than a field goal that goes wide left.
Thanks Gary…
Cheers!