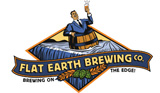 Hops! Hops! Hops! Hops! Hops!
Did you see what I did right there? Flat Earth is celebrating five years of conspiracy with their latest offering,  Two Fingers double IPA. They'll be offering growlers of said beer at the brewery starting at noon on Friday. Kinda' makes a guy want to play hooky from work Friday, doesn't it?
Congrats to Flat Earth on turning five!