…and there are still tickets. You should go. The Minnesota Craft Brewers Guild consistently puts on some of the best festivals in the state. Not so long ago, this festival would sell out immediately, so if you're riding the fence, the time to get tickets is right fucking now. As per usual, Autumn Brew Review is an awesome showcase of local beers as well as out-of-state breweries. A ridiculous amount of work goes into making this event happen each year. I think it shows.
Some festival hints:
Get the app. Guild events are using an app for their programs these days. This cuts down on paper waste, and with the sheer number of breweries in the state, paper booklets start to get heavy. Plus, it's just one more thing to carry around, drop or leave in the port-a-potty. That being said, put your stupid phone away. Make some mental notes about what you want to taste and then go for it. While you're at it, strike up conversations with your fellow beer lovers. Meet new people! Who knows, Charlie Brown, you may even meet the little red-headed girl (woman?).
Step away from the booth. 1. Get in line. If there's no line, proceed directly to the fine folks who are pouring beer. 2. Pick a beer. This won't be a life-changing decision, so don't waste a lot of time. You can always come back. 3. Step away. Not two feet, not 10 feet. Move away from the tent and enjoy your beer. It's frustrating for other festival-goers to get in what looks like a line only to find that it's a group of jackasses who didn't have the common sense to move away from the tent.
Don't drink it all. You'll thank me later. You don't have to try every beer, and there is certainly no shame in dumping a beer. There will be a beer that you won't like. Find a dump bucket and get rid of it – no sense in "taking one for the team."
Eat. Some suggest a "base" of food. Personally, I suggest eating a healthy and filling breakfast and lunch. Follow it up with something excellent at the festival (I'm partial to NateDogs) or in NE Minneapolis following the festival.
Some beers we think you may want to try:
August Schell Lunar Interference. Cask (fass?) preview of their forthcoming 7% ABV Berliner Weisse, described has having notes of chocolate, coffee and cocoa. Okay, I'll bite… Also drink the Oktoberfest. Just because.
Bad Weather Pucker Face. Kettle-soured American wheat beer with waaay too many raspberries? Sounds tasty to me!
Beaver Island Sweet Miss w/ mole. Cask conditioned milk stout with smoked Chipotle peppers, cinnamon and vanilla beans.
Bent Brewstillery Vintage Funked Up Sour. etc. "Some of your favorite sours from the head brewer's own archive." Go drink Kris' magic.
Dangerous Man Barrel Aged Blutpakt. German porter collaboration with Surly Brewing aged in a tawny port barrel after spending time on white ash.
Fitger's Brewhouse Cherry Batch. So many cherries. Go get this. In fact, steal the keg and bring it to me!! (Don't really do this…)
Indeed Whiskey Queen. Barrel-aged imperial stouts are hit and miss for me. I like this one. I bet you will too.
Minneapolis Town Hall Brewery Coconut Pitstop. Light lager brewed with Michigan Balaton cherries and coconut.
Pryes Brewing Wisconsin Brandy Ol'Fashion Cask. Hmmm. Cherries and oranges in a cask of Miraculum?
Steel Toe Brewing Saison. Yes.
Surly Brewing Co. Twelve. Kidding. I'd go with the Dampfbier, though if Darkness is your thing, why not try the cherry-infused version?
Wild Mind Pash Bash. Blend of three beers with 700 lbs. of dragon fruit and passoin fruit.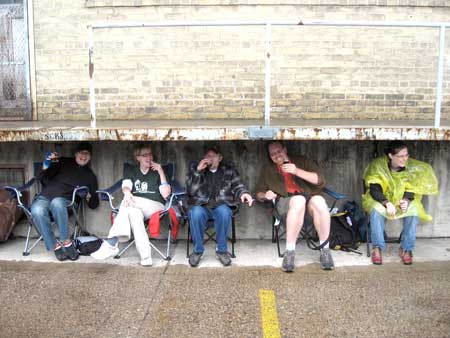 Important details: