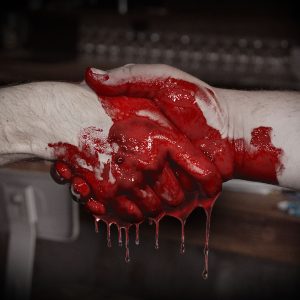 "Do what you love and you'll never work a day in your life." That's the motto that Co-Owner Rob Miller at Dangerous Man lives and bleeds day in and day out at his brewery in Northeast Minneapolis. Miller and the crew over at Surly are the latest members of the local brewing scene to team up on a collaboration beer that they are calling Blutpakt which translates to "blood pact." The beer itself is based on an old recipe that piqued the interest of Dangerous Man brewer John Leingang who was doing extensive research on historic beers. "I was at home doing some research and found some old recipes. I found the old German Porter recipe and I thought it looked awesome" John says.
Dangerous Man and Surly are two of the most popular breweries in the state so this one makes total sense. Collaborations often seem like a good idea, but they don't always work out. Sarah Bonvallet, the other Co-Owner at Dangerous Man and current Secretary of the Minnesota Craft Brewers Guild Board, says that they've reached out to a number of breweries in hopes of collaborating—but that doesn't always work out. "We've attempted a bunch, but they sometimes get stuck in the brainstorming phase." This German Porter's malt base is primarily Münich and the recipe was brewed at each location with the main difference being that the Surly version used brettanomyces. The Dangerous Man version is nice and toasty, almost marshmallow like. The Surly rendition is less toasty, but it has a nice little funk to it from the addition of brett.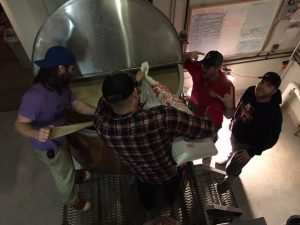 You will be able to find both varieties within a couple of blocks of each other when they are released during Art-A-Whirl at noon on Saturday, May 21st. The Dangerous Man version will be released at their taproom while Surly's version will tap at the 331 Club right down the street.
Surly, namesake of the "Surly Bill" which set the current taproom scene in motion back in 2012 has wanted to work with Dangerous Man on a collaboration for a while. Jerrod Johnson, who represented Surly in this project thinks that it would be nice to see more of these collaborations, but for the right reasons. "The interesting part is seeing the small process differences. It really brings to the forefront the character of the different breweries" says Johnson.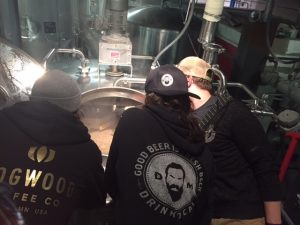 When asked why the two breweries wanted to collaborate, Miller mentioned that Surly was the right fit for them. "They are good brewing friends, and we have similar interests." Sarah chimed in and mentioned that both breweries have solid reputations which means that it benefited them both equally. "What I loved about this collaboration is that we both stand on our own. It was fun and I really enjoyed seeing that" she said. The right fit indeed.
Meanwhile, down Broadway, Bauhaus and Fair State have been dreaming up a Münich Helles for well over a year. Both Matt Schwandt of Bauhaus and Niko Tonks of Fair State are very particular about their brewing methods which makes this a fitting collaboration. "This is how people should find common ground" says Tonks.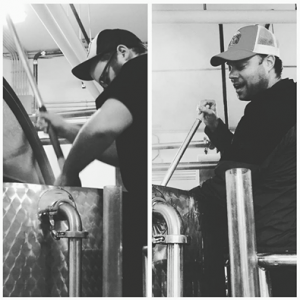 This is the first Helles that either brewery has done and according to Schwandt, It was Niko's idea. Helles Lager is the "holy grail" of lagers according Tonks and the ingredients that each brewery used were a little different. For one, Bauhaus used a German Bock yeast whereas Fair State used a yeast called Augustiner.
This "no frills" Helles lager is called Das Homeguys Helles and they are both very clean, crisp, and refreshing beers—perfect for patio season. Lagers are notorious for being tricky to brew because it's much harder to mask flaws in delicately balanced beers such as these.
Both versions will debut at Republic Seven Corners today (5 pm) just in time for Lagerfest. Both taprooms will also be releasing their versions of the beer today and they hope it will make through Art-A-Whirl which is happening next weekend.
Collaborations such as these, come at a time when large breweries such as AB InBev are buying up smaller craft breweries to keep their foothold on the market. "For the past decade, craft brewers have charged into the market, seeing double digit growth for eight of those years," said Bart Watson, chief economist, Brewers Association in a press release regarding craft breweries. While "big brewers" are losing market share to the ever-growing craft market (up 16% nationwide in retail dollar value for 2015), craft breweries are popping up all over the country and the camaraderie is stronger than ever.
"It's starting to happen more and more, and I think it's a good thing" said Schwandt about local brewing collaborations. This is most likely a product of a close community of breweries who are operating under the assumption that a rising tide lifts all boats. Bonvallet pointed to the fact that Denver hosts Collaboration Fest (149 breweries participated this year) as proof that collaborations are here to stay. Trend or otherwise, we're likely to see plenty more of these here in the Land of 10,000 Lakes.
"It's a sign of a more mature scene" says Tonks.
A scene that is growing together, instead of apart.
Cheers!