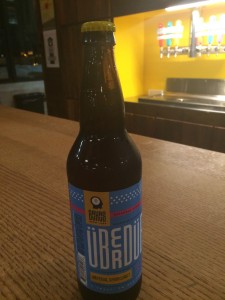 The timing seems strange, but I'll take what they're going for over at Bauhaus Brew Labs with their latest seasonal offering. Introducing Imperial Sparkling Ale, the latest in the Über Düber Series at Bauhaus Brew Labs. This style seems to be under represented and it makes sense that Bauhaus would attempt this.
Bubble gum and melons are present up front with this one due to the hops (some of which are from Australia) that are used. Pineapple comes across in the flavor and the finish is dry. This one will have you looking right and left before you get up from your seat. Your best bet, sit down and have a water afterwards and wait it out. At 8% ABV, this one will sneak up on you.
You can find this one in bomber bottles all over town and on draft in the taproom.
Cheers!