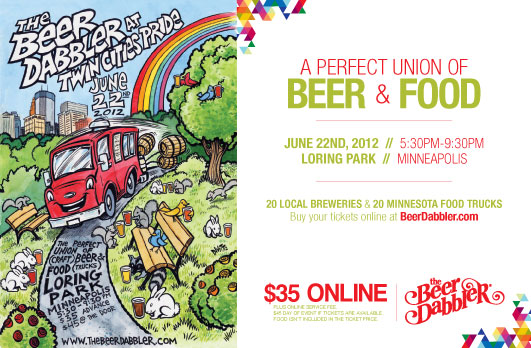 In case you hadn't heard, The Beer Dabbler is hooking up with one of the nation's largest Pride festivals with a beer & food truck throwdown fit for… well… you. And you and you and you… In any case, it's this weekend, and you'd be missing out if you weren't there. 5:30 – 9:30pm in Loring Park, Minneapolis. Tickets are $35 in advanced or $45 at the gates.
Access to one of the largest gatherings of Minnesota's favorite Food Trucks
A chance to try some very special food & beer pairings – each Food Truck will offer one menu item specially paired with a local brew. Paired menu items will be $3 each. (Food not included in the ticket price.)
Entertainment including DJ Jake Rudh & Apollo Cobra on the Lavender Magazine stage and a chance to dance to your own beat at The Schell's Silent Disco
Games and activities – including a Stanley's Barroom Dunk Tank with proceeds benefitting The Finnegan's Community Fund and Real Pirates Treasure Hunt presented by The Science Museum of Minnesota
Pairing rundown? Okay… Whose idea was it for me to go out of town this weekend?!?!
Fulton Brewing Company & World Street Kitchen
Beers: Sweet Child of Vine & Grapefruit Lonely Blonde
Paired with Lamb Belly Taco: A double corn tortilla filled with caramelized lamb belly, jalapeno pickled cucumbers, secret sauce and fresh basil.

The Herkimer & Simply Steves
Beers: Kolsch  & Weiss
Paired with Mahi Mahi Slider w/Pineapple Salsa:  rilled Mahi Mahi Slider w/Pineapple Salsa, goes great with Gose Beer from the Herkimer.

Cold Spring Brewing Co. & The Barrio Taco Truck
Beers: John Henry 3 Lick Spiker Ale  & Cold Spring IPA
Paired with Compart Family Farms Barbeque Pork Sopes with Habanero-Pickled Onions and Avocado: The sope is filled with braised pork that is caramelized in a sauce made from tomato, Ancho peppers, honey and Chipotle peppers. The barbequed pork is garnished with pickled onion, avocado and cilantro.

Rock Bottom Restaurant & Brewery & Messy Giuseppe
Beers: Belgian-style White Ale & India Pale Ale
Paired withLamb Spiedini: Skewered coriander spiced lamb, red pepper and onion with an orange zest yogurt dipping sauce. The lamb is seasoned with a coriander marinade then skewered with the vegetables and coated with parmesan cheese and Italian seasoned bread crumbs, then grilled.  The spiedini will pair perfectly with Rock Bottom Brewery's Belgian-style White Ale.

Lucid Brewing & Foxy Falafel
Beers: Lucid DYNO & Lucid SUMMERTIDE
Paired food item TBA

Rush River Brewing Co  & Potters Pasties
Beers: Double Bubble Imperial IPA & Unforgiven Amber
Paired with Rush River Beer Sausage:  House made Sicilian Sausage, cooked slowly with Rush River Beer, wrapped in our delicious flaky dough.

Surly Brewing Co. & Neato's 
Beers: CynicAle & Hell
Paired with Hell Fries: A lightly seasoned version of our duck fat fries served with a Surly Hell infused sweet garlic aioli.

August Schell Brewing Company & Stanley's on Wheel's
Beers: Schell Firebrick & Zommerfest
Paired with Firebrick Smoked BBQ Brisket Sandwich: Schell's Firebrick infused into our homemade BBQ sauce for an unbelievable tasty BBQ Brisket Sandwich. You won't want to miss this!

Brainerd Lakes Beer & Big Emanual/West Indies Soul Cafe
Beers: One Eyed Pike & First Pull IPA
Paired with Beer-Battered Cat Fish: Seasoned Cajun Cat Fish, beer batter made with Tilted T-ale Beer, fried to perfection! Come check us out!

Brau Brothers Brewing Company & Gastrotruck
Beers: Sheephead &  Moo Joos
Paired with Pork Belly Slider: Fisher Farms Pork Belly, Smoked then Braised in Beer for hours! Topped with a chef-made Kimchee & Ginger Aioli.

Flat Earth Brewing Company & Vellee Deli
Beers: Element 115 & Angry Planet ~ The American Pale Ale
Paired with Chicken Currito Bowl: Spicy Thai Curry chicken, potatoes, romaine lettuce, seasoned rice, and creamy zing sauce paired up with Saint Paul's Flat Earth Brewing's Northwest Passage IPA.  Made with four American hops and Canadian malts the Northwest Passage goes well with any of Vellee Deli's tasty offerings!

Summit Brewing Company & Natedogs
Beers: Great Northern Porter  & Horizon Red Ale
Paired with Pride Wiener: A Natedog topped with Bacon Jam and Summit Saga IPA beer mustard!

Lift Bridge Brewing Company & Hola Arepa
Beers: Farm Girl Saison & Hop Dish IPA
Paired with Slow-Roasted Pork Arepa Slider: Pork braised in Hop Dish IPA & latin spices with black beans, jalapeno-tomato jam, housemade queso fresco and pickled cabbage slaw.

Central Waters Brewing Company & A Cupcake Social
Beers: Mudpuppy Porter & Belgian Style Blonde Ale
Paired with Chocolate covered bacon and pretzel cupcakes: Uniquely baked AND paired with Central Waters Mudpuppy Porter.  Mudpuppy Porter's luscious chocolate nose paired with the salty sweetness Chocolate Covered Bacon Pretzel Cupcake will have all dark beer lovers coming twice.

Badger Hill Brewing & Fork In The Road
Beers: MSB – Minnesota Special Bitter & 3 Tree American Rye
Paired with Pulled Pork Taco: Pulled Pork Taco slowly braised with Badger Hill Beer, topped with citrus slaw and chipotle sour cream.

Lucette Brewing Company & YumMi truck
Beers: Shining Dawn & Easy Rider
Paired with Thai Nee Mi: Banh mi sandwich with sweet and spicy shrimp, red cabbage peanut slaw, cucumber, cilantro and Sriracha aioli

FINNEGANS & RA MacSammy's
Beers: FINNEGANS Irish Amber & FINNEGANS Blonde Ale
Paired food item TBA

Mantorville Brewing Co & Bloomy's Roast Beef
Beers TBA
Paired with Porter marinated top sirloin skewer served on a bed of tangy coleslaw: Certified Hereford top sirloin, marinated in Mantorville's savory Stagecoach Smoked Porter and slow cooked to juicy perfection. Generously sliced and served skewer-style on a bed of crisp, tangy house-made coleslaw.

Lake Superior Brewing & The Cave Cafe
Beers TBA
Paired with Curried Chicken

Harriet Brewing & Chef Shack
Beers TBA
Paired food item TBA