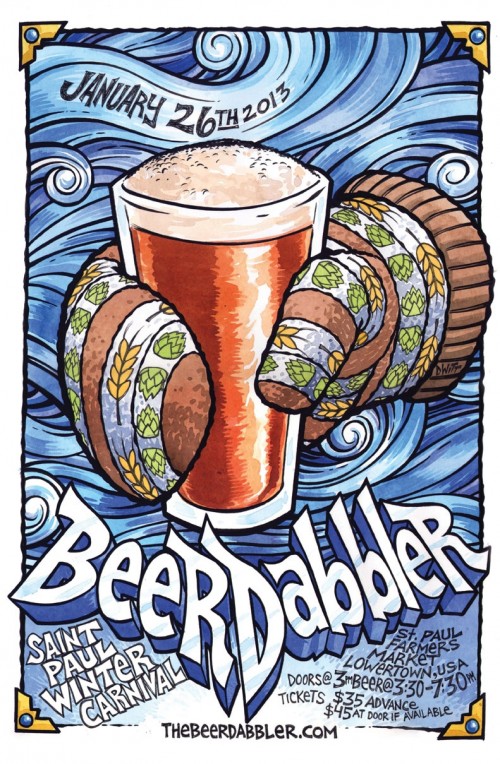 November is on its way out and along with the cold weather and (shudder) snow comes ticket sales for the Beer Dabbler Winter Carnival. Tickets went on sale Wednesday November 7th with a release party at The Cherokee Tavern in West St. Paul. Besides being stumbling distance from my humble abode, it's also the perfect spot for a release party with awesome food like ribs and onion rings, fantastic pizzas and a solid craft beer lineup. Did I mention the good beer on tap?
The Cherokee Tavern is a popular local spot and it was no different for the release party. Many beer lovers descended on the West St. Paul staple to enjoy some great beer and, most importantly, buy tickets for one of the many Winter Carnival highlights, the Beer Dabbler. The crowd at the Cherokee was impressive as there were two different lines stretching across the bar at one point. I can't think of too many times I've seen people actually lining up to pay money to stand outside in frigid late January weather…the beer definitely makes it a more enticing offer, though.
Besides the excellent local craft beer and great food I consumed, I also got to talk to Matt Kenevan of the Beer Dabbler (with his very stylish Movember mustache) about the upcoming Beer Dabbler and some of the highlights for 2013. Being a self-proclaimed beer festival evangelist, I loved hearing about the many palates the Dabbler has changed. My favorite was the story Matt and his awesome mustache told about the person that came up to him with five bottle caps in their hand. They had collected the bottle caps from the pouring tables and told Matt, "I don't like craft beer, but I love these five beers because of today!" Having converted a few beer drinkers to the world of craft beer, I understand the pride Matt takes in saving a fellow human being from the grips of domestic light beer.
I've had the privilege of attending the Beer Dabbler before and have had a great time. I was very excited when he brought me up to speed on the following:
Warm-up – Last year the space was open half an hour before the start of the event, but this year there is a gathering space where they will be able to sell some beer before the event starts at 3:30.
Breweries – There will be over 100 breweries this year. Last year was just around 80. I won't complain about more delicious brews to taste.
Brewery List– In a new feature this year, the partial list of breweries will be included in the December issue of the Growler to give patrons a preview of the excellence to come in January.
Firkins – In case adding over 20 breweries wasn't cool enough, there will be around 80 specialty firkins…
Second Stage -They are also adding a second stage for music. I love having some background music when tasting delicious brews and their great local line up will definitely achieve that!
Extra Space – The already large space at the Farmer's Market location will be expanded by adding more room over by the Black Dog.
Food Trucks – Beer might be the reason everyone is showing up, but there will also be a whole bunch of great local food. There will be about a dozen food trucks and some smaller food vendors as well.
Charitable Donations – The Dabbler plans to donate a large chunk of the proceeds to local charities. Now I actually have proof that my beer consumption helps benefit the community!  My mother will be so proud of me…if she isn't too busy shaking her head after reading this.
Even though the Beer Dabbler Winter Carnival is still two months away, tickets are on sale already at www.thebeerdabbler.com and at The Beer Dabbler Store, The Ale Jail, Thomas Liquors and the Four Firkins (Cash only at the retail locations). Pick your tickets up, dress warm (seriously, don't let the sun trick you into thinking it's warmer than it actually is. It gets real cold when it gets dark) and come out to see what the Dabbler has to offer this winter!