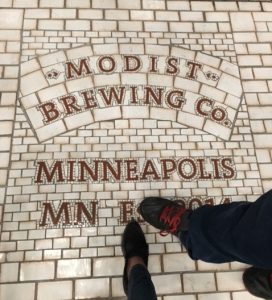 Modist Brewing is all about changing the way people think about beer, and it starts with education. Their plan is coming to fruition with a six part series taught by Paige Didora. After years of working in the industry and her writing experience, Paige is the perfect person to teach such a class. Beginning on Monday, November 21st when she will be discussing malts and how they are used in the brewing process.
Head brewer Keigan Knee is excited about the program. "Craft beer nationally – even globally – is evolving at a rapid pace and it's no longer just one-tone, macro light lager. It's an incredibly nuanced thing that benefits greatly from a passion for flavor and quality. At Modist, we feel that an informed consumer that knows more, can appreciate more, can enjoy more. That's why we're doing this."
Some of the other topics being discussed over the duration of the course will be water, the process of making beer, yeast, off flavors and pairing beer with food. Tickets will be $50 and will cover all sessions including a possible bonus session. Seats are limited to 50. Check the schedule below:
CURRICULUM:
Session 1 – Monday 11/21: A Malty History
Session 2 – Monday 11/28: Just Add Water
A focus on water and water quality
Session 3 – Monday 12/5: Boil it, Hop it, Spin it, Cool it
From mash to boil to whirlpool
A conversation about hops and other additives
Session 4 – Monday 12/12: Magic!
Yeast – the impact on beer flavors, aromas
Session 5 – Monday 12/19: Good Beer Gone Bad
Off-flavors: their sources and causes
The importance of proper packaging and storage
Session 6 – Monday 1/2/2017: Evaluating Beer and Pairing it with Food (the basics)
How to evaluate beer and the basics of food and beer pairing