Mark Opdahl and Juno Choi of Chop Liver Inc. decided four years ago that the Twin Cities needed a rare beer festival. Something similar to the Firestone Walker Invitational, Denver Rare Beer Fest, and the Festival of Barrel Aged Beers. Their solution was a rare beer festival held at the beautiful Minnesota Historical Society called Northern Lights Rare Beer Fest. "We wanted to take those ideas, hand select the breweries, and give the beer community what they want" says Opdahl.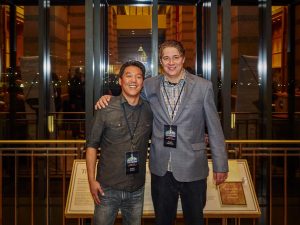 The breweries (30 in total) are a mix of local and national, which provide a nice variety of beers that are hard for Minnesotans to get their hands on. "We're pretty lucky too" says Opdahl. "It's a testament that they want to have some of their beers up against the best in the country. It really shows that they appreciate what we do the rest of the year with Chop Liver Inc. events." This event is also rare in that food is included in the cost of the ticket ($100 with a portion of the proceeds going to Pints for Prostates) and is often better than you'll find at other beer events around town. "It's not just deli sandwiches and potato chips" he says laughing. For example, last year they served pork belly sliders, beer cheese soup, along with all sorts of snacks.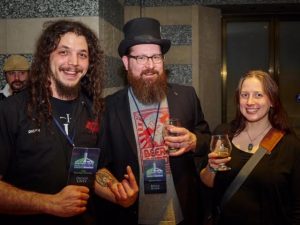 Another thing that sets this event apart from others is the venue. The Minnesota Historical Society hosted Winterfest for years before they outgrew the space with so many new local breweries. "The venue is really what makes this event what it is" he proclaims. "Marble top to bottom, and a view of the capitol from the 3rd floor. We only sell 750 of these tickets so it's easy to get around. If you spend this kind of money, you should be able to move around." So how do they get so many of these breweries on board? Experience. They had been running beer events for 6 years before the first Northern Lights Rare Beer Fest giving them the opportunity to meet representatives from many of these breweries. The other co-founder Juno Choi has been working at Brewers Supply Group for years where he's built relationships with some of the most notable people in the industry.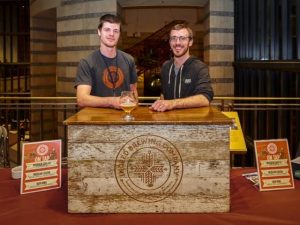 This year's event will take place on March 11th with tickets going on sale this Friday at 10 AM, just in time for the holidays. The festival provides attendees the chance to try a lot of these beers without committing to full bottles and long lines outside of liquor stores. "Its a great opportunity to try unique beers that are often not found in stores. If you go into a normal bar and pay for a single flight, you're already at $15" states Opdahl.
All in all this is one of the best beer festivals held here in Minnesota, and a ticket to this event is a great gift idea for those who seek out hard to find beers.
So which breweries are gonna be there? We at MNBeer.com are proud to announce the brewery lineup which can be found below:
August Schell Brewing Company (2015 winner)
Avery Brewing Company
Ballast Point Brewing Company
Bells Brewery
Bemidji Brewing Company
Bent Paddle Brewing Company
Boulevard Brewing Company
Central Waters Brewing Company
Dark Horse Brewing Company
Deschutes Brewery
Elysian Brewing Company
Fargo Brewing Company
Fitgers Brewhouse (2016 winner)
Forager Brewing Company
Fulton Brewery
Goose Island Beer Company
Grand Teton Brewing Company (2014 winner)
Great Divide Brewing Company
Great Lakes Brewing Company
Indeed Brewing Company
Lagunitas Brewing Company
Left Hand Brewing Company
Lift Bridge Brewing Company
Minneapolis Town Hall Brewery
Oskar Blues Brewery
Steel Toe Brewing Company
Stone Brewing Company
Surly Brewing Company
The Bruery
Toppling Goliath Brewing Company
Cheers!