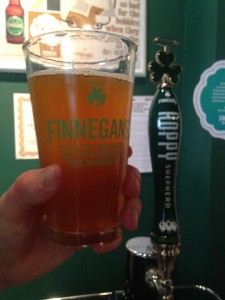 Jacquie Berglund founded Finnegan's back in 2000 with the hopes of turning beer into food. Her organization donates 100% of profits to feed the hungry in the communities where their beer is sold. They've made a few different styles over the years (their beers are contract brewed at Summit) and they have all been very solid. The latest from Finnegan's is a Session Ale called Hoppy Shepherd.
I was impressed with this addition to their lineup (although Dead Irish Poet is still my favorite) as it explores the interesting trend of hoppy session beers. I'm a sucker for these "hop forward" styles and this one lives up to that billing. Think lots of citrus with lightly toasted cracker from the malt. I'd suggest choosing this as you fire up the grill this spring and know that you're not only feeding yourself, but also members of your community.
Speaking of community, Finnegan's is partnering with local chefs this month in support of MN FoodShare's Hunger Awareness Month. The theme….Food Fight. How it works is that chefs are asked to come up with a menu item using one of Finnegan's beers and sell it at their restaurant for the month of March, and then donating a portion of that to profit. Voting will happen through the entire month with the winner receiving a free weekend at Chase on the Lake Resort. Check out the participants below.
• Bennett's Chop and Railhouse – Chef Joe Bennett
• The Local – Chef Vincent Francoual
• Green Mill (Uptown, Lakeville, Eagan and Albert Lee)- Chefs Eric Heidelberger, Sammy Gonzalez, Danielle Puhle, Derek Oakland
• Le Town Talk Diner – Chef Ozzy Amelotti
• Pat's Tap and the Red Stag- David Robinson (Pat's Tap), Chefs Brian Krouch & Andrew Erenst (Red Stag)
• The Minneapolis Club – Chef Hakan Lundberg
• FireLake Grill House and Cocktail Bar (MOA and Downtown Mpls) Chefs Dinesh Jayawardena and Jim Kyndberg
• Jake O'Connors and O'Donovan's- Chris Oxley
Cheers!