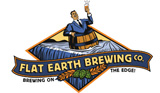 Huh? The Ugly Mug? Wha? No, it's not that coffee house in Farmington… The Ugly Mug is the bar formerly known as Harvey's. They'll be closed this week for a remodel and will reopen on Friday as The Ugly Mug. Half price pints from 4-7pm and free Schell's from 7-9. It's listed as Schell's Amber on BA, but last I checked,Schell's didn't have a beer with said name.
Mark your calendars for May 1st at 5:00 pm for the release of Flat Earth's Black Helicopter at The Ugly Mug as well. Black Helicopter is a coffee stout. I'm hoping that Jeff brings some to Arborfest on Friday. Could I be so lucky?
A description of the beer…
Black Helicopter is a coffee oatmeal stout made with locally roasted Columbia coffee beans from Paradise roasters in Ramsey, MN. What makes this coffee beer different you ask? This is the first beer of its kind made with coffee brewed on a Clover machine, which uses a unique mechanism for extracting the subtle and complex flavors of a coffee bean. Don't miss this chance to taste this one of a kind brew.
I can't help but think of Kopplin's when I think of Clover machines. Andrew's coffee is top notch. I think this beer will be gooooood…