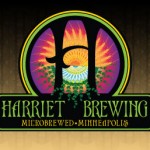 It looks as if Harriet Brewing is about to launch, with a Belgian dubbel & a Belgian-style IPA. According to Michael Agnew's Hot Dish post on City Pages, the brewery license application just needs to go to the full City Council for approval, which should happen by the end of the month. Hence, our old pal Al at The Blue Nile is planning a release party to follow. We'll keep you posted as we learn more!
At Harriet Brewing we emphasize intention as the primary component in recipe development. It's what makes good beer special. We take pride in using our knowledge of traditional beer styles, our open minds, and eclectic pallets to brew both unique and traditional beer styles. Our goal with every recipe is authenticity… to develop a particular character that allows the beer to stand out and be remembered. It's authenticity that we crave as beer drinkers; so, it's authenticity that we strive for as brewers. We study beer, determine what we want, then manifest it! For most of us here, it's not just in brewing; it's a way of life.
So, fellow beer lover, we ask that  you drink with intention!