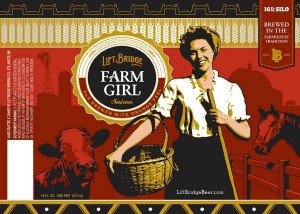 It would look that way, anyway. We stumbled upon this post on BA and figured that if MyBeerBuzz.com and Beer Advocate fans are sharing, we'll share too.
http://beeradvocate.com/community/threads/lift-bridge-farm-girl-16-oz-cans-coming-soon.70396/
Click to expand the artwork. The right side of the label refers to a 16 oz. silo. Very nice. I'm a fan of the artwork, too.
Obviously no release date just yet.