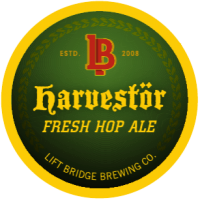 St. Paul's first cask of Lift Bridge Harvestör Fresh Hop Ale gets tapped at Ngon Vietnamese Bistro right after work: 5pm-7pm.
Hai has some great patio menu items including:
Anise braised Thousand Hills short ribs on baguette with arugula and pickled sprouts and scallons
Curry tempura Lake Superior Herring with sweet potatoes fries and spicy aioli
Grilled five spice sausage made with Fischer Farms pork
Spring Rolls made with organic greens, mint, vermicelli noodles, shrimp & BBQ pork
Enjoy some Harvestör and celebrate the last few patio days of the year!
Harvestör Details
Beer style: Fresh Hop Ale
ABV: 6.5%
IBU: 60
SRM: 13
Description: Constant addition of fresh, organic Cascade hops from Hippity Hops Farms in Forest Lake, MN. Aromatic and caramel malts compliment the hop character for an incredibly balanced beer that celebrates the hop harvest without killing your tongue.