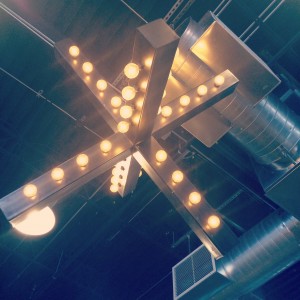 It took a while, but Modist is looking to change the way we think about beer. First of all, founders Eric Paredes, Kale Anderson, Dan Wellendorf, John Donnelly, and Keigan Knee are all in on some state-of-the-art equipment that gives them efficiencies that other breweries just can't achieve. "We've been able to reach 90 – 98% efficiency with our beers" says Paredes.
This is in reference to the fact that they "pulverize" their grain into a powder and filter it out afterwards rather than having to clean out the mash with a shovel. Essentially they run it through an expensive piece of filtering equipment which produces a cake of the unusable material.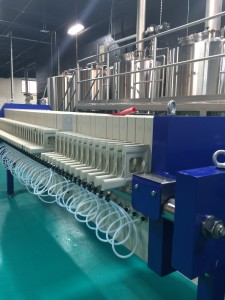 With the beer (reasonably priced at $3 for a tulip, and $5 for a 20 oz. pour) they hope to change the way we view beer. Paredes went on and on about how he wants people to see beer pair with food the same way that wine does. They aren't big on making beers to fit into specific styles. Out of the gate they are pouring three beers, pHresh, TOATS, and Calibration Ale which are all very clean.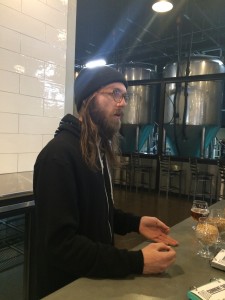 PHresh is your sessionable patio beer. It's described as "a refreshing tart beer" which it certainly will be. The initial batch didn't quite reach the pH balance they were looking for so it's not very tart out of the gate, but I'm told the next batch will be. "It's super drinkable. A gateway sour beer" according to head brewer Keigan Knee.
Toats is my favorite of their initial offerings. People tend to think of robust and roasty Stouts, and a velvety mouthfeel with oat based beers. This one is clean, sessionable, and damn tasty with a citrus kick in the nose. A perfect example that the color your beer does not determine the bitterness, nor the alcohol content of your beverage.
Calibration is the first beer that they brewed on their new equipment. Years of homebrew experimentation inspired this one. This tasty sipper clocks in as their highest ABV offering yet at 5.9%. Once again, this is very drinkable and the Pilsner malt comes through nicely lending it a touch of sweetness.
The wait is over and Modist definitely lives up to the hype. With those prices, Twins fans are going to be very happy.
Grand Opening
Friday, April 15th 3:00 PM
Modist Brewing
505 N 3rd Street
Minneapolis, MN 55401
Cheers!