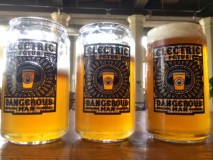 A typical brew day at Dangerous Man starts very early, and if you were to walk in you'd hear music blasting from the speakers. Operations Manager Hilari Bandow loves music so much that she worked with the Electric Fetus to set up a collaboration beer with the Minneapolis institution. "We always have music playing here, so it's cool to have something [a special beer] to enjoy while you're listening to music. Music for our brewery is woven in, and we're all big vinyl collectors."
The beer this year will be called Record Store Day Organic IPA and it's brewed with Amarillo and Bravo hops. This beautiful looking beer is super citrusy and very refreshing so it will pair well with this awesome weather. Co-owner and head brewer Rob Miller had this to say about the beer this year. "It is a light refreshing, tropical IPA. A beer you would want to drink sitting outside on a spring day listening to your favorite Peter Tosh vinyl."
Sarah Bonvallet who also owns the brewery and is the Creative Director loves music, and can often be seen at shows around town—usually with other staff members. "We have a deep love for music at Dangerous Man, whether it is jamming hard at the brewery to P.O.S. or our staff going to see shows together. So it feels like an honor to work with Electric Fetus, such a Minneapolis staple in the music community and be able to support each other.
The artwork for the event can be seen on the new merch which will be available for purchase at Electric Fetus. "We used a local designer and screen printer to create the art. The whole thing has Minneapolis dripping off of it, which we love" says Sarah. "The beer itself pushes that fruity IPA boundary to the max, which I think is indicative of the Electric Fetus and their support of experimental art on all levels" she says.
So when is Record Store Day? Well technically it starts at 9:00 am this Saturday, but according to Electric Fetus owner Aaron Meyerring and Store Manager Bob Fuchs people will start lining up outside the door at 6 pm on Friday night. "It's like crazy. It has become this national holiday. Last year was the most fun I've ever had" according to Aaron.
By lining up, many of the people who show up to Record Store Day are looking for the exclusive releases, but for most people they are just looking to pick up something new and they use the day as an excuse to support their local record shop. At the Electric Fetus they go big for this event with in-store performances from local musicians, food trucks lined up outside, and even a crafting area for kids.
On the collaboration, Meyerring says that the fit just makes sense. "Two years ago on Christmas, I wanted to carry some craft beer merch and they [Dangerous Man] wanted to sell their stuff here. We crossover pretty well."
"There's no shortage of love for beer around here."
Here's how it works. You show up and shop around, maybe hit a food truck or two and hang out for a while. Make a purchase and bring your receipt to Dangerous Man for $1 off your Record Store Day Organic IPA purchase. Please note the beer is NOT available for purchase at the Electric Fetus.
Here are the details:
Saturday, April 16th 2016 at 9:00 am
Electric Fetus
2000 4th Ave. S
Minneapolis, MN 55404
Food trucks will show up at 10:00 am and they will be Natedogs, Chef Shack, and Bubble Boy.
The music lineup will be:
10:30 am – DJ Jake Rudh of Transmission
Noon – The Honeydogs
1:30 pm – Prairie Fire Lady Choir
3:00 pm – I Self Devine/Muja Messiah
4:30 pm – Magic Castles
Cheers!