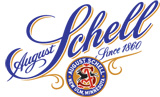 …can I get a drumroll? Here's the skinny from Schell's…
Schell Anniversary Draft Series #4 : 1890 Schwarzbier – OG 14.0° , IBU 30.
Literally translated as "Black Beer." Often referred to as a "Black Pils" due to it's higher hopping levels. In reality, Schwarzbiers are neither truly black, nor as hoppy as a Pilsner. Schwarzbiers are a regional specialty beer from southern Thuringen and northern Franconia in Germany, and most likely began as a variation of the dunkel. Rich, mild, and remarkably well balanced. Lighter in body than its black ale counterparts with notes of bittersweet chocolate and vanilla.
Release Date: Oct 23,2008 honoring the birthday of Warren "Schmaltz" Marti, President of Schell's from 1969-1985.
Schell Snowstorm 2008: Weihnachtsbier – OG 16.0° , IBU 26
As the days grow shorter and colder in Bavaria, shoppers exhausted from a day at the open air market look forward to stopping by their local for a nourishing glass of the seasonal specialty:
Weihnachtsbier. Snowstorm 2008 was designed with the cold days of winter in mind. Reddish brown in color with a complex maltiness yielding hints of spicy rye, sourdough, and chocolate. Brewed with nine different malts, including copious amounts of Munich and a touch of Rye.
Snowstorm will be available at the ABR vom Fass, along with some U-bier, Stout, Octoberfest, and the Dampfbier.