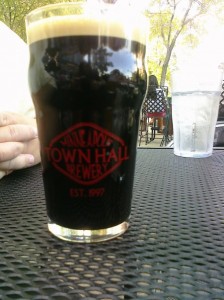 Town Hall has gotten some new logo pint glasses in, ready to be filled for your drinking pleasure.
The 20 oz "bubble glasses" (aka British Imperial Pint) can be yours for $6 (empty) or $9 (filled).
If you're wondering what you might put in your glass besides their year round beers, Apricot Wheat has departed but as of last night Coconut Milk Stout and IPA were both available on cask. In addition they had a German style pale, going by the name of Tradition Pale Ale.