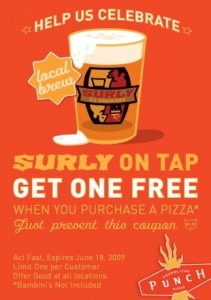 Doesn't that combination just make you start drooling?
Starting Thursday, June 11 Punch Pizza will be offering a Surly Special – buy a pizza, get a free Bitter Brewer. I'm not sure how long the promotion will continue so don't drag your feet on it!
The message remains the same, don't drag your feet on this deal. The offer is only good until June 18.
One more thing, you are instructed to print out the coupon.