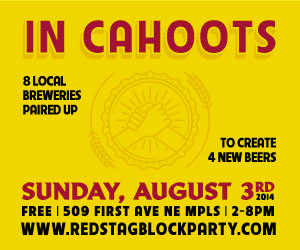 First… The Red Stag Block Party is in it's eighth year?! Wow. How did that happen? In any case, it's back, once again with a fun music line-up, and of course the requisite good food & beer. Should be chock full of awesomesauce, right?
"Wait Ron, there's more…" and I promise you it's more exciting than spray-on hair or a pocket-sized fishing rod. This year the event will feature what one can only assume will be a whole 'lotta beery goodness thanks to four local brewery collaborations. August Schell Brewing Company is hooking up with Sociable Cider Works, Fulton and Dangerous Man promise some beardy wonderment, Fitger's Brewhouse and Bent Paddle are teaming up to represent the North Shore and Summit and Bang Brewery are representing St. Paul.
Attendees will vote on their favorite collaboration and a portion of the proceeds will go to the winning team's local charity of choice. Sounds pretty cool, eh?
Entertainment: Sonny Knight & the Lakers, E.L.nO, Shro Dame, Alpha Consumer, Frankie Lee, Romantica, MC Foxy Tann, dance collective Epitome No Question, North Star Roller girls and more!
The event runs 2-8pm outside Red Stag Supper Club, rain or shine. Don't miss this!
509 First Avenue Northeast, Minneapolis