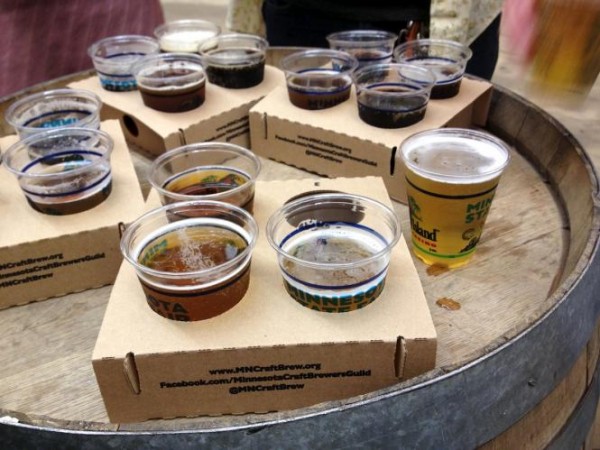 Foot longs. The Dairy Barn. Ye Old Mill. People watching. Seed art. Yard sticks. Fleet Farm t-shirts. Motley Crue and Whitesnake blaring in the Midway. Things on sticks… sometimes ridiculous things on sticks, in fact. Deep-fried everything. More people watching. Aaah, the Minnesota State Fair.
Oh, and beer. Local beer. The important stuff.
The Minnesota Craft Brewers Guild is bringing the Land of 10,000 Beers back to the Fair for another run, and we couldn't be happier. Run, don't walk to the Agriculture/Horticulture Building when the Minnesota State Fair opens next Thursday. Nearly 200 beers from 54 breweries await you. And for the first time this year, you'll find 10 brewpubs represented at the Fair, thanks to a new Minnesota law that allows them to pour at the State Fair.
Once again fairgoers will have the option to choose from various flights of beer representing the Minnesota craft beer scene. For $10 you'll get four (5 oz.) samples. Flights include Belgian & "Sweeter" beers, Lighter, Darker and Hoppier as well as a Minnesota Mix and Brewpub flight. We'll take one of each, please!
"The Minnesota craft beer scene continues to flourish with the addition of new breweries and brewpubs and the creation of exciting and various styles of beers produced by the state's brewers," says Dan Schwarz, president of the Minnesota Craft Brewers Guild. "The State Fair is an ideal spot to celebrate and discover craft beer to support what is being made and poured here in Minnesota."
If you've never visited the Fair, perhaps this is your year. If you've never visited the Land of 10,000 Beers, please don't miss it. Be sure to sample some beer, check out some educational programs and chat with a brewer or two.
 Other Highlights & Changes
Daily education programs — includes presentations ranging in topics from the brewing process, to the history of beer art to beer tourism and more. Programs are

3 p.m. and 6 p.m.

on weekdays, and at

noon

,

3 p.m. and 6 p.m.

on weekends. The full schedule will be posted at mncraftbrew.org next week.
Brew-cation Destination Wall  — helps visitors map out a tour to taste Minnesota craft beer.
Breweriana display — chronicles the history and culture of beer in Minnesota.
Art Gallery — features local artists' beer-inspired art.
Brewing Process — posters teach attendees about how different styles of beer are brewed.
Pay by card — For the first time, beer flights and merchandise can be purchased with credit/debit cards.
Advanced purchase — Visitors can fly to their flights by purchasing beers in advance online and then accessing the express lane at the exhibit: http://www.tempotickets.com/10000beers