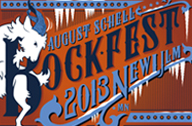 Schell's Bockfest is Saturday, February 9th from 11am to 4:30pm at the brewery! This event has been going strong for 26 years and no doubt the fun will continue this year with great food, music, dancing, hot pokers and plenty of  Schell's Bock beer! This event is always busy and does sell out, so if you're thinking of showing up on the day of the event, be sure to show up a little early!
Advanced tickets go on sale next week at Schell's Gift Shop (no phone or internet orders) for $10. Tickets will also be available at the gate.
Our best suggestion for Bockfest? Stay the night in New Ulm. After Bockfest ends at the brewery, downtown New Ulm is usually a lot of fun! Make a night of it!
Additionally, a number of outfits offer bus rides to and from Bockfest. Be aware that none of these offerings include entry to Bockfest, so entry is not guaranteed unless you get
The Herkimer
$65 per person (tickets here) – doors open at 8am – bus leaves at 8:45am. Includes a breakfast box for the trip to New Ulm, a Bockfest gift from The Herkimer, Herkimer Bock on the bus, and of course a ride to and from Bockfest.
Mankato Bockfest Bus
$35 per person (signup info) – This trip begins and ends at Pub 500 in Mankato and includes a breakfast buffet. The bus will leave at 9am sharp and return at about 5:45pm. As of today, it looks like there are about 48 seats left.
…and maybe…
The St. Paul Jaycees have traditionally lined-up a package that includes breakfast at The Happy Gnome and and a bus ride. No info just yet, though.