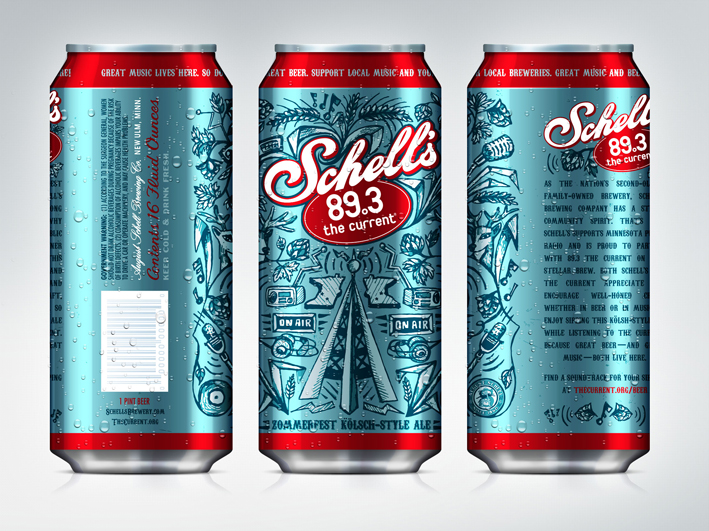 Today the fine folks at The Current have announced that the station is hooking up with our friends at Schell's to introduce a co-labeled Schell's The Current beer, available in May. The beer will be a limited edition run of Schell's Seasonal Zommerfest, a Kölsch-style ale. Look for it in 16 ounce cans at bars and liquors.
Surprised? Perhaps a little, though with the station's attention to craft beer in recent years, this seems like a fun fit. And to be perfectly honest, aside from the "Frozen" cd that my four-year-old requests daily, The Current is a staple in my car. I'd suspect that many of our craft beer loving friends are also fans of The Current.
"We know that many of our fans love craft beer, and we look at any partnership or promotion through the lens of our audience," said Jim McGuinn, program director for The Current. "We know our listeners and this is a natural fit."
In addition to increasing brand awareness of The Current, the station also hopes to introduce listeners to local bands, whose songs will be available in May at thecurrent.org/beer. A list of participating bands and songs will be announced closer to the launch of the beer.
"Local bands and local beer are a great match," McGuinn said. "We love that we can bring the two together. Through the downloads available at thecurrent.org and upcoming shows featuring these artists, we hope to continue to support our local music scene."
"Beer drinkers are looking to quench their thirst with a brew that has a good story behind it," said Ted Marti, President of Schell's, and a fifth generation member of the brewing family. "We've got that covered with 154 years of German heritage, and The Current has that covered with the fantastic local music it supports. It's a win-win."
Any revenue generated from the sales of Schell's The Current beer will go back to The Current and the work it does to support local music.