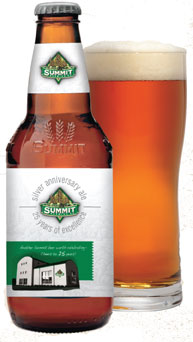 Summit celebrates 25 years of beer this year. Many of us have fond memories of our first Summit… For me, that was likely sometime around '94 when I cracked open a 6-pack box of Extra Pale Ale and enjoyed what had to be one of the hoppiest beers I'd ever tasted. (Of course in college and younger Busch & Budweiser were a bit more readily available.)
In any case, what better way to celebrate 25 years with a special release? Summit's Silver Anniversary beer is an assertively hopped version of their flagship EPA. The beer will be brewed with 2 row and crystal malts, American ale yeast and Citra, Centennial and Cascade hops and weighs in at 6.5% abv and 80 IBUs. I'm looking forward to trying this… and forward to another 25 years of Summit. Congrats guys!
Release dates to come. As always, watch this space!