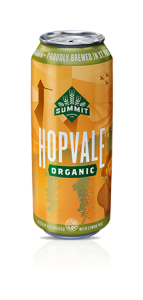 Back in January, we told you about Summit's latest offering, Hopvale Organic Ale. Yesterday, Summit announced that this beer will be rolling out shortly with a series of release events. Hopvale will be available for your imbibing pleasure starting the first week of April on draught and in 16 oz. 4-pack cans.
Summit describes the beer as having the hop character of an IPA with the drinkability of a Bitter. They go on to suggest that you'll fine notes of grapefruit, pine resin, lemon rind and tangerine. We're thirsty already.

"Summit's ongoing commitment to using the highest quality of ingredients inspired the addition of an organic beer into our year-round line up of brews," said Head Brewer Damian McConn.


Hopvale Organic Ale Information:
Malts: Organic Pale and Caramel 15

Hops: Organic Bravo, Cascade, Centennial, and Chinook

Kettle Additions: Organic Lemon Peel
Keep scrolling for release event information.

Join Summit Founder Mark Stutrud and Head Brewer Damian McConn for happy hour on the rooftop patio. $4.50 for a 20oz Hopvale, Extra Pale Ale, or Sága IPA.
Special organic food pairings, prizes and more.
Meet us in the Beer Hall to introduce Hopvale and celebrate the Repeal of Prohibition. Como Avenue Jug Band to perform and Hopvale will be on draught and in cans.  



Mark Stutrud will be on hand from

4-6pm

to kick off this massive invasion that includes Hopvale Organic Ale, a cask of Unchained 18: Hop Silo Double IPA with Citra, Oatmeal Stout, Maibock, Sága IPA, and Pilsener. All pints are $3.50, and the first 48 people to buy a Summit get a free Summit glass.


Join Head Brewer Damian McConn and Barrio Chef Ian Pierce for a multi-course meal paired with Summit beers, include Hopvale Organic Ale and a cask of Unchained 18: Hop Silo Double IPA with lemon and lime peel.


Proceeds donated to various environmental groups.
Celebrate Madison Craft Beer Week with a Hopvale!