Just another Sunday in March. Snow flying, temperatures fluctuating, and a liquor store open on Sunday? Yep, you read that correctly. Surdyk's which has been in business for 80 years opened for business today at 11:00 AM even though the recently passed Sunday Sales law doesn't go into effect until July 1st.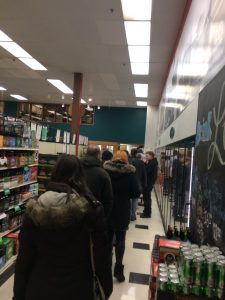 Consumers were smiling and laughing in the store as if they knew they were doing something illegal, but didn't have to suffer any consequences as the store would be responsible for penalties. We spoke to Nate from Southwest Minneapolis who was adamant that Minnesotans should be able to purchase beer on Sunday. "A friend of mine posted on Facebook that they were open today. I think all stores should be open on Sundays. Listen to your customers" he suggested.
For context, Jim Surdyk has opposed this law change from the beginning but it didn't stop him from making decision to open his store today. "The governor signed it. Why the hell are we gonna wait three months for this" he says.
We asked him if he plans to open on Sundays in the future leading up to the law change but it doesn't seem likely. "The cat's outta the bag. Maybe others will follow suit. I'm the first to do it" he said with a chuckle.
So what's the penalty? According to this state document, it would seem that a suspension or revocation of their license is in order. He didn't seem quite so sure. "We'll have to wait and see what happens."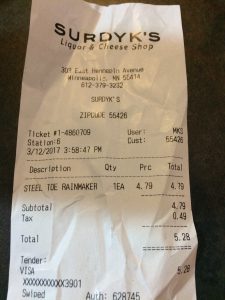 Read into it however you may, but this seems like a big middle finger to his competitors while offering a fun opportunity for Minnesotans to purchase beer on a Sunday ahead of the law change. Whatever happens in response to this should be interesting. Stay tuned.
***Update***
Minneapolis fines Surdyk's $2,000 and hands out a 30 day suspension for the Minneapolis liquor retailer beginning on July 2nd. The suspension begins the first day of the law change. They will further penalize Surdyk's (revocation of license possible) if they choose to open for business on the Sundays leading up to that law change.
Cheers!