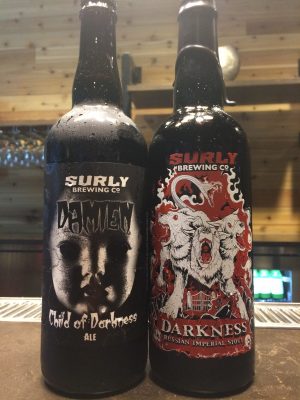 Back in 2007, Surly Brewing was just a small brewing operation out of a Minneapolis suburb making bold beers for loyal beer nerds. One of those beers was called "Darkness" which is a Russian Imperial Stout that was dreamed up by Director of Brewery Operations Todd Haug. Now this is one of the most sought after beers in the country—where people line up 24 hours prior, just for the opportunity to purchase some on the day dedicated to the annual release…Darkness Day. "The first year I made 12 barrels" says Haug. "That first month at Café 28 [a restaurant formerly owned and operated by Todd and his wife Linda] no one knew about it" he said.
But for the last 8 years they've not been able to make enough of it which is why this year they made a concerted effort to do so. Surly is now distributed in the Dakotas, Wisconsin, Chicago, Iowa, and Nebraska and they don't want let those markets down. So this year they're running a campaign called Paint the Town Black. They will be releasing 3 dark beers into all of their markets starting this week with Furious Black, a nod to the character from Harry Potter. The recipe for this version of Furious is essentially the same aside from the addition of roasted malts—which add notes of dark chocolate and seemingly tone down the bitterness of the hops in comparison. This is the only one of the 3 that will be draft only.
Damien is a beer that has been made for 5 years but has only really been available at the annual Darkness Day event. This year it will be packaged in bomber bottles that will sell for around $8 in all of Surly's markets. The release date will be October 3rd for the beer dubbed as "The Child of Darkness" according to Jerrod Johnson, lead brewer over at the Brooklyn Center brewery. "Damien is made from the last runnings of Darkness" he explains. "It's always been a big game to see how high we can get the ABV [percentage of alcohol by volume] on that beer." This year though, it's different. They wanted to make it a more sessionable beer steering the ABV below 6.5%. Damian is somewhat similar to Darkness but you don't get the stone fruit notes and the chocolate notes seems to be more prevalent in "The Child of Darkness."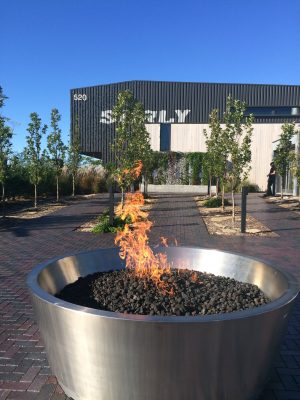 Darkness will round out the lineup being released into the wild October 17th, a couple of days after Darkness Day. There should be quite a bit of this available this year unlike in years past, which has always been a gripe of those among the Surly Nation. People have often accused the brewery of brewing a limited supply to keep up with demand, but that's not the case according to Johnson. "The only thing that has kept us from brewing this amount was capacity. That's it. We're excited to be able to provide more of it this year" he says. Todd verified that statement and also added that over the years they've really been able to "dial in" the recipe. "It is what it is" Haug says. It took us years to get that recipe down, and brewing more of it has allowed us to do some blending." Surly Darkness Day will take place on Saturday, October 15th at the usual location, the Brooklyn Center Brewery.
One last note about the 2016 version of Darkness being released in a couple weeks is that it is not barrel-aged. The High West Rye Whiskey barrel-aged version will hit shelves in early 2017 meaning it will get its own release at that time. In the meantime, enjoy these limited fantastic offerings. They won't last long.
If you go:
Surly Darkness Day
When:
Saturday, October 15th 2016
Where:
4811 Dusharme Drive
Brooklyn Center, MN 55429