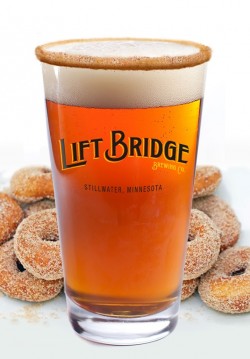 If it didn't sound delicious, I'd call it a gimmick. Our friends at Lift Bridge have produced what is said to be the first-ever mini donut flavored beer. Armed with a stack of Motley Crue albums, some ripped jeans and a sleeveless Iron Maiden t-shirt, brewer Matt Hall toured the country with carnies for months as he honed his recipe and devised a tiny automatic brewhouse to produce this sweet little beer, one pint at a time.
True story. The fruits of the brewery's labors will be available exclusively at the Ball Park Café.  And though you won't have to bitch should you throw this beer into your mouth too quickly, drinking a dozen in a sitting will probably kick your ass. Expect a malty sweet sipper that weighs in at about 5% abv. Mini-Donut will be served in a glass rimmed with cinnamon and sugar. Suggest pairing: Mini-donuts. Duh.
Many thanks to the guys at Lift Bridge for not making a corn dog or blooming onion beer. Gah.