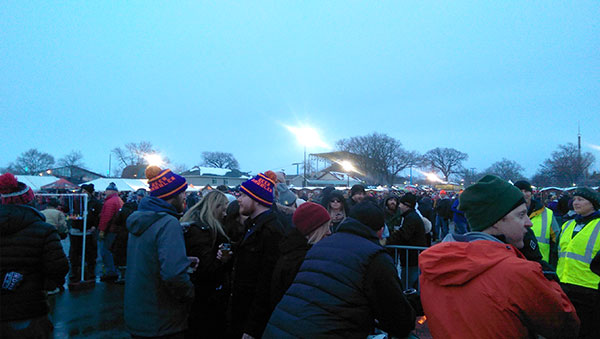 It's largely been a mild and dry winter, but in recent weeks the weather has reminded us that yes, we do still live in Minnesota. Cold and snow have returned to make commutes difficult, delay school start times and cause us to break out the shovels. But, it seems, winter decided to give us a little reprieve on Saturdayto let us enjoy the Winter Carnival Beer Dabbler. With temperatures hovering in the mid-30s, it was quite pleasant to be outside during Saturday's massive outdoor beer festival (with proper layering).
The Beer Dabbler Winter Carnival has grown a lot since its debut seven years ago, said Joe Alton of The Beer Dabbler and The Growler Magazine. "There were less than 10 breweries in the state when we hosted our first Beer Dabbler Winter Carnival in Lowertown," he said. "There were approximately 1200 people in attendance. This past Saturday we hosted 146 breweries and almost 10,000 guests."
That number makes The Beer Dabbler Winter Carnival easily one of the biggest beer festivals in the state. "The Beer Dabbler is absolutely 100% the biggest winter beer fest in the state," said Alton. "We're also fairly sure the Beer Dabbler Winter Carnival is the largest single-session beer festival in the state and very well could be the largest."
You might think that the sheer number of attendees at The Beer Dabbler Winter Carnival would make it feel crowded. It did not. Lines at many booths were long, but all moved consistently. If the line at one brewery was too long, you could simply jump to another booth with a shorter line and almost always have a new beer in your sampler glass. The crowd was in high spirits from the start of the event to the end, with nary a complaint heard about the lines. In fact, the only lines that anyone even joked about being too long were those for the bathroom.
"The most difficult thing about organizing an event of this size is scaling up the amenities," said Alton. "There are some formulas and equations we've created to help predict the number of porta potties we'll need or how much beer and food to have ready for each guest, but it really comes down to the trials and errors that has come with years of experience in hosting this event."
The years of experience came through. The Dabbler crew assembled an impressive selection of breweries from around the country, spanning an area so large it would be easy to miss entire sections of the festival. Most breweries appeared not to bring the ultra-rare releases that show up at Minnesota Craft Brewers Guild events, but there were still many hard-to-find and exciting beers to try. Surly brought its taproom-only Surly Pils, Summit offered a cask of Saga IPA with Citra hops. Bent Paddle had its recently released Double Shot Double Black, a beer that likely helped propel it to winning the 2016 Lord Dabbler's Cup.
Even with big name breweries at every turn, the story of the day was smaller breweries. "I keep hearing really good things about Birches on the Lake," said Alton. "Two or three people mentioned to me they liked what they had tasted from Rhombus Guys Brewing. [Ed. Their pizza is awesome… can't wait to try the beer.] But alas, I didn't get time to stop and visit many breweries." This writer wanted to highlight exactly those two breweries. Birches on the Lake was pouring a style I'd never seen before – a chocolate golden ale that poured a lovely golden color, yet tasted strongly of rich chocolate. I've never had a beer like it, which is something I haven't said in a long time. From Grand Forks, North Dakota, Rhombus Guys featured a stellar coffee stout and a porter that was equally good. These two breweries definitely came onto my radar as ones to watch.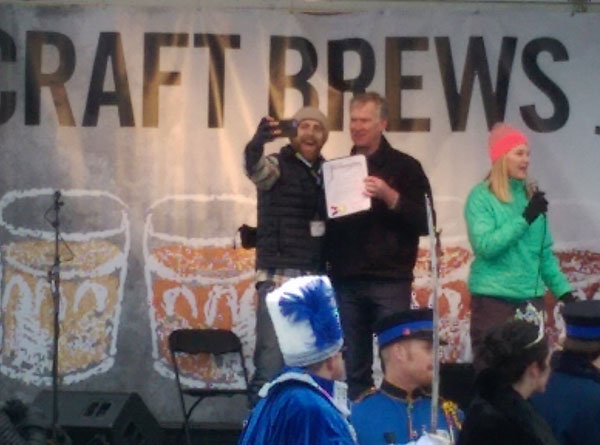 Other personal standout beers for me included Ballast Point's Pineapple Sculpin, Boulevard's The Calling IPA and Collaboration #5 Tropical Pale Ale and Insight's Dank IPA. The Dabbler's Joe Alton highlighted Fulton's Eleven OG IPA, Rush River's new hard cider, Bent Paddle's Double Shot Double Black and Dangerous Man's Cabernet Barrel-Aged Belgian Dark Strong, which was tapped to kick off the fest. Of course, with so many breweries present, there were certainly dozens of other amazing beers I didn't even have a chance to try.
I'm looking forward to the return of warmer weather soon, but it's good to know that there are events like the Beer Dabbler Winter Carnival every year to lessen the sting when winter inevitably rolls back around.