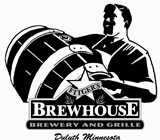 It must be greater Minnesota day here at MNBeer… I'm sipping a bit of McCann's Prairie Porter and just remembered that Dave sent me Fitger's list of beers for Winterfest. Here they are… there might be a surprise as well, but we're not telling. They all sound good, though I'll confess that I'm looking forward to wheat wine and the Blue Label Grand Reserve as I like the wine-barrel aged beers more than bourbon.
The list is below the fold… later this week we'll share McCann's offerings…
1. Park Point Pilsener 5.5%
German style hoppy lager. Only German malt and hops used. Smooth and clean finishing, a bit lighter then the rest.
2. Imperial Pilsener 8.5%
German style double pils. Aged for 8 months to let flavors mature. A bit more alcohol and flavor then Park Point.
3. Gale Force Cranberry Ale 8.2%
Belgian style golden ale, infused with copious amounts of cranberry. On the sweeter side with a tart dry finish.
4. Edmund Imperial Stout – Bourbon barrel aged 9.0%
We added our aged Ed stout to a Woodford Reserve Bourbon Barrel. Aged for 9 months and presto. Nice bourbon, vanilla notes complementing the rich coffee,toffee stout flavors.

5. Blue Label Grande Reserve – Pinot Noir barrel aged 10.0%
Our Imperial Belgian abby style ale. Lagered then aged in the wine barrel. Notes of plums and raisins match the oak and red fruit flavors.
6. Bellsnickle Wheat Wine 11.5%
Our yearly holiday wheatwine. 1 yr of aging with a strong wheat/alcohol/vanilla presence.
7. Hair O' the Monk 9.9%
Our Belgian style tripple ale. Golden and light bodied with lots of fruit esters and a warm fuzzy finish.

8. Mr. Spock Eisbock 11.2%
German style triple bock. Frozen and aged. The flavors condense into a malt bonanza well worth a cold winters night.