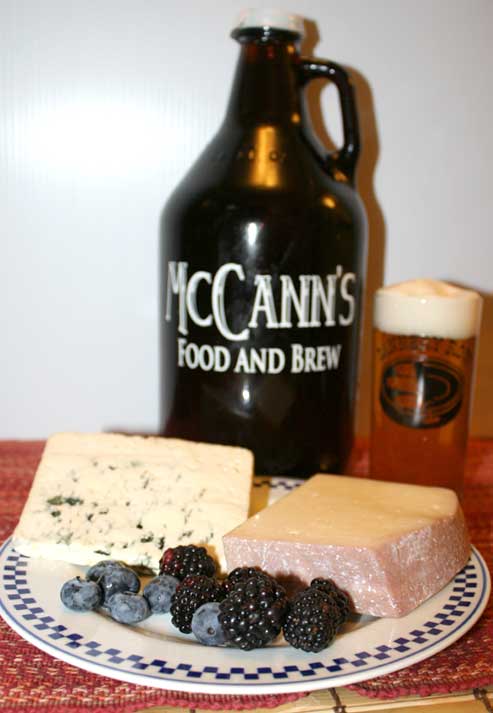 Excellent weekend purchases:
McCann's Trippel Trouble – a Belgian-style tripel straight outta' STC. (Also many thanks to Mike for the Cannery Row glasses!)
Blueberries & blackberries – just because I love them.
Amablu Winter Blues – Amablu's St. Pete's Select blue cheese that has been bathed in Summit Winter Ale for several weeks. I'm not a cheese expert, but I know what I like & not surprisingly, I like this. I think the notes from the Winter Ale are subtle, but I dig the finished product. Available exclusively at Lunds & Byerly's.
Sartori Reserve Bellavitano Raspberry – This was a suggestion from the cheesemonger at the Byerly's in Saint Louis Park. He pointed me in the direction of Winter Blues and then asked if I'd ever tried this particular cheese which had been soaked in the ever-tasty New Glarus Raspberry Tart Ale. The description mentions that the cheese combines a "Parmesan taste with creamy Cheddar texture." Again, I'm not a cheese geek, but the description seems fitting. Subtle raspberry. Hmm. If anyone is making a run for the border (no not this border adventure), I'd take a 750 of this beer to compliment the cheese. Mmm.