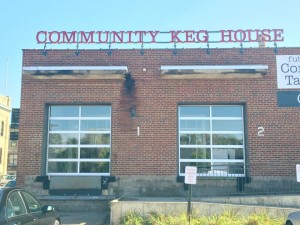 Here is a Q & A session I conducted with Nate Field from Community Keg House which is set to open on Friday, January 15th. This "beer room" is located in the Grain Belt Brewing Keg House and it provides a different experience than the other taprooms in town.
When was the idea for Community Keg House born?
I came up with the idea around 6 years ago. This was before the taproom boom. I wanted to create a space where beer enthusiasts could get closer to the experience of enjoying and understanding beer. I liked the experience I'd had at some wine bars and I modeled much of it on that form/vibe.
How did you secure that location?
My real estate broker found the space for us. We knew we wanted a location in NE where I live. When we found the space in the Grain Belt Keg House it felt right. We liked the idea that we would be celebrating the history of Minnesota beer while showcasing the next generation of what we are brewing.
How does the system work?
A patron walks up to our bar. Rather than order a specific beer they order a glass (either 16 or 10 oz size).
They enter a self-contained room we refer to as the "pour room." Within the pour room is a 17-foot long table with 16 taps on it. Each tap is a different Minnesota brewery. Located and monitoring the tap table are "taptenders." The taptender is there to help you. You can talk with them about beer, get a sample or directions on how to pour the perfect pint.
When you decide which beer you would like to drink, you POUR YOUR OWN PINT!
Now, beer in hand, you exit the pour room. You return to one of our seating areas. When you want another beer you return to the bar and get a new glass. The cashiers at the bar (bar control) can cut you off if you're drunk). And the system repeats.
How will you make sure that people are pouring their beers correctly in regards to proper sanitation?
Well, each time you go back to the table you have to get a new glass. We will have some signage on proper pouring and the taptenders are there to advise.
Will you have options for people who don't like beer?
Yes. We have two ciders on tap at all times. Also, there are NA drinks in the kitchen.
Which local beers will be available?
Belgian
Boom Island Witness
Insight Sunken City
Harriet Dark Abbey
Schell's Snowstorm 2015
Winter
Northgate Stronghold
Summit Winter Ale
Bauhaus Tallander
Indeed Stir Crazy
Hoppy
Surly Furious
Fair State Pomp Le Moose
56 Brewing Polonaise APA
Able Seedhouse & Brewery First Light
Alternative
Grain Belt Nordeast
Bent Brewstillery Maroon & Bold
Four Daughters Loon Juice
Sociable Cider Werks Freewheeler
Community Keg House
34 13th Ave NE
Minneapolis, MN 55413
Hours:
Monday 4 pm to 12 am
Tues-Wed Closed
Thursday 4 pm to 12 am
Friday 4 pm to 12 am
Saturday 1 pm to 12am
Sunday 1pm to 10 pm
Cheers!