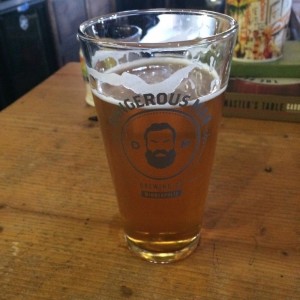 Here are some tidbits from around town as the holidays wind down.
Dangerous Man has just released their SMASH IPA and it's fantastic. Citra lovers will rejoice over this one as it's composed of 100% Citra hops and Simpson's Golden Promise malt. It's available on tap and in the growler room. Also on tap is Sour Delores #2. This kettle sour was brewed with raspberries and it is also available both on tap, and in the growler room.
The Belgian Pale Ale I helped brew over at Bad Weather Brewing is now on at their St. Paul taproom. I've yet to try it but I'm hearing good things. This means I may not have messed it up after all.
Surly canned more Abrasive recently and it should be available in stores throughout January 2016. Now if they'd only can Todd the Axe Man all year long….
Buffalo Trace is on the Barrel Reserve line at Town Hall Brewery. The brewery recently decided to dedicate a draft line to their spectacular barrel aged program. They'll even have some 750 ml bottles for sale starting today at the brewery.
The popular Double IPA they call Size 11 is making a return mid-January at Steel Toe Brewing. They also have 750 ml bottles of Wee Heavy ($10) and Lunker ($20) for sale in bottles at the taproom. I'm hearing whispers that the supply of Lunker is getting pretty low, so you'd better act quickly if you're looking to get some.
Schell's is releasing a Bock sampler pack that is available now here in the Twin Cities. It consists of a pre-prohibition style, heirloom wheat, a 90s version, and their current variety.
Cheers!