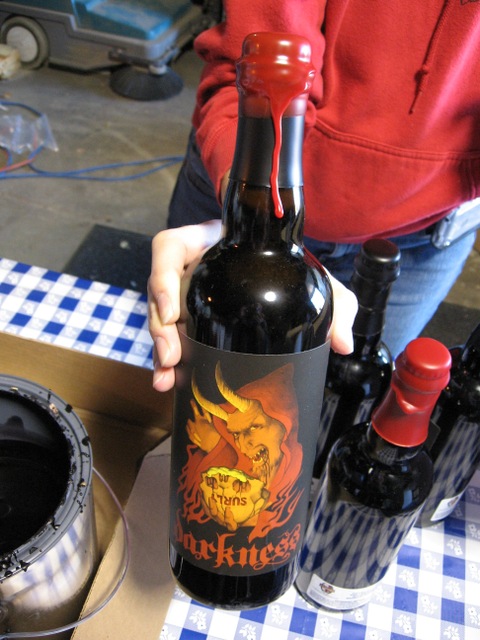 Thanks to Chip (Brewhound) for sharing his photos. More photos & video can be found here. This year's artwork comes from Nic Skrade at Uptown Tattoo. More Darkness Day info below the fold.
Inquiring minds want to know – What's happening at D-Day? Here is the latest as of today.
Brewery gates open at noon on Saturday, October 25th. The 1st 700 people through the gates have the option of purchasing bottles of 2008 Darkness. Each individual can buy up to 6 bottles. The bottles cost $17 each and that includes tax. CASH ONLY! These bottles are 750 ML, like a wine bottle, that's equal to 25.3 ounces. Folks can purchase their bottles of Darkness anytime between noon and 5:30. You must purchase your beer by 5:30 or your beer will be sold to someone else.
These bottles of Darkness will not be sold at liquor stores. We will not mail these bottles of beer to folks, nor will we save the beer for folks that can not make the event. If you want the beer, be one of the 1st 700 people through the gates.
Darkness Goblets, posters and t-shirts will be for sale during the event. This year's Darkness poster was designed by local tattoo artist Nic Skrade.
D-Day attendees will be able to buy Surly beer during the event. $3 tokens will be available for purchase. CASH ONLY! These tokens are redeemable for 12 ounce beers that will be poured from noon to 5:30.
Three bands will be playing during the day at the brewery.
12:15 GuzzleMug
2:00 God Came From Space
4:00 Powermad
We will be closing the gates at 6:30. Please arrange for a pickup, cab ride or designated driver. We will have volunteers directing folks to different areas to park in our industrial park. Our neighbors have been kind to let you use their lots to park. Please don't leave crap in their parking lots and make sure your car is removed from their lot by Sunday evening if you need to leave your car.
Food will be available for purchase during the event.
Minors are welcome with their parent.
This is the last D-Day at the brewery because we will not be able to sell beer from the brewery after December 31st of this year. Stop on by and enjoy the day!
Darkness draft launch parties, Omar will be at each of the events.
October 30th – Stub & Herbs
November 5th – Bavarian Lodge in Lisle, IL
November 12th – Hell's Kitchen in Duluth