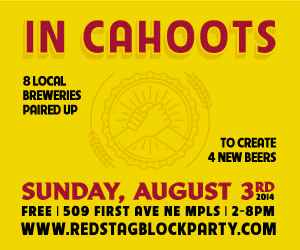 The Growler, in partnership with The Red Stag Supper Club, is hosting the Twin Cities' first ever beer collaboration festival on August 3rd in Northeast Minneapolis.
In Cahoots! A Collaboration of Craft" adds a twist to Red Stag's 8th Annual Block Party—a well-established Northeast tradition—and pairs four teams of Minnesota breweries for the occasion. Attendees can sample four specially made beers —there will be at least 10 kegs of each, so the well won't run dry—from:
The collaboration beers themselves will be announced soon. Attendees can vote on their favorite collaboration throughout the day, with the winner chosen at the end of the evening. The event is free and open to the public. Each pair will set the price for its creation.
If the promise of four bespoke beers isn't enough to turn you out to In Cahoots!, an impressive musical lineup should do the trick. In addition to headliners Sonny Knight & The Lakers—yes, that Sonny Knight & The Lakers—there'll be performances from:
E.L.nO.
Shiro Dame
Frankie Lee
Alpha Consumer
MC Foxy Tann
Epitome No Question
And just announced: Reg Stag, already Minnesota's first LEED-CI restaurant, is partnering with Eureka Recycling to make In Cahoots! a zero waste party. You can do your part by following any waste disposal directives at the event.