Many thanks to Nicole for this one. She sat down with Rob a couple of times as Dangerous Man was taking shape and then stopped out at Dangerous Man's soft opening on Friday. Here are the results! -RA
Let's get Dangerous.
If you fear variety, beware of the danger lurking at 1300 2nd Street NE on January 25th when Dangerous Man Brewing Co. opens its doors to the thirsty residents of NE Minneapolis. The plethora of recent brewery openings promises variety in the beer scene, but Dangerous Man will be a place where patrons can always experience the new and exciting without ever leaving their barstool.
Rob Miller is the owner, head brewer and face (no really, the logo is a graphic of his face) of Dangerous Man. He takes the motto – "Good Beer is Fresh Beer. Drink Local!" to heart. He'll work up to brewing 1,000 barrels a year in small batches with enough frequency to keep 6 taps in a constant state of change. If variety is the new black, then Dangerous Man will be the pot and the kettle.
Don't look for pithy names on the tap handles. Each beer will be identified by its style alone. Miller believes that naming beers often causes confusion.  "There will always be at least one IPA, a session beer and a dark beer on tap. The rest of the taps will depend on what season it is," he explained. Even the three consistent beers won't be the same every time. This is how Miller wants to quench beer drinkers' thirst for knowledge. He'll make slight changes in the recipes and explain what makes each beer different from batch to batch.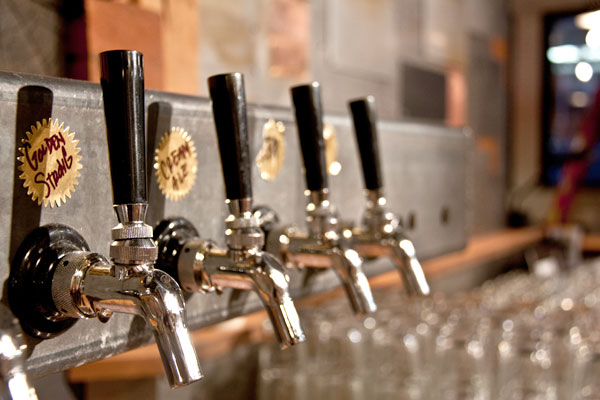 Brewing good beer has been Miller's obsession for over 10 years. In his basement beer laboratory, he began dreaming of turning his delicious hobby into an enjoyable career. It's a vision shared by many homebrewers but actually realized by few. With assistance of his family and friends, who are both helpful and talented (a rare combination), Miller is realizing that dream now.
The journey to opening day has taken longer than he anticipated owing to the amount of work needed to get the space ready. Most of the work was done by a small group of family and friends. The result is indisputably worth the wait. But even though the space is amazing, Miller is unlikely to spend much time talking about the design aesthetics. When asked what the best part of opening the brewery would be, he smiled and said, "I'm looking forward to sharing the beer with everybody who has been waiting for so long."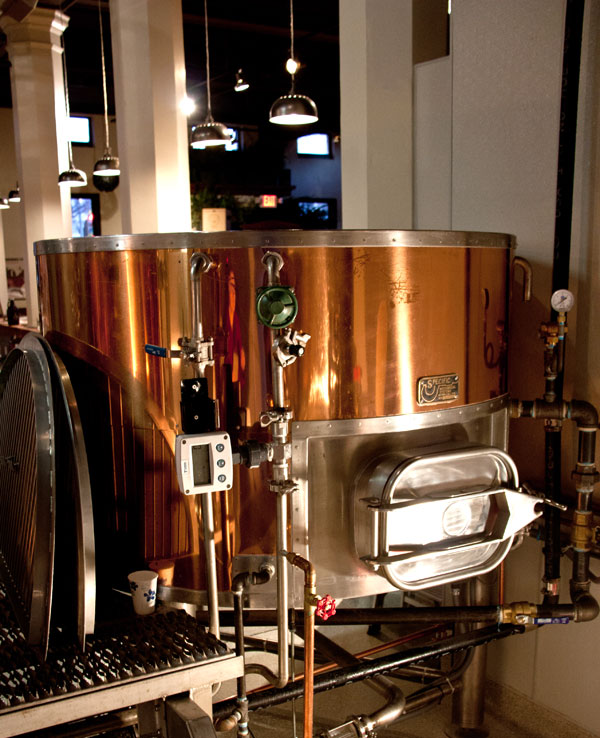 At a recent small event the tap line-up included an IPA, a cream ale, a Belgian golden strong and a chocolate milk stout. Only a strong preference for one style or another would help in deciding which one was the best. The table service kept people comfortably at their tables instead of waiting in lines at the bar and growlers were available for those who wanted to take the experience home.
As head brewer, Miller is eager to share his beer (almost as eager as we are to taste it), but as owner, he's very interested in making Dangerous Man an invaluable addition to its NE neighborhood. This means partnerships with nearby businesses and a family-friendly atmosphere. Patrons are encouraged to bring in food from any of the many nearby restaurants or even from home. The handmade sodas and an area for children stocked with games and puzzles make it truly a destination for the entire family. Dangerous Man is a place where everyone is welcome and can be comfortable. This will attract a clientele with as much variety as the beer that Miller serves.