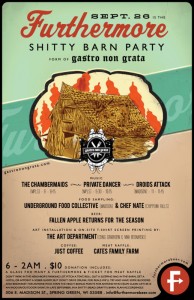 I swear, I'm not ragging on Furthermore, this is the name they came up with for their shindig.
In conjunction with Gastro Non Grata, some music, food and art dudes, Furthermore invites you out to their shitty barn for a party.
For a $10 donation you get a glass to be filled with "many a Furthermore" plus a ticket for the meat raffle. Click here for all the details.