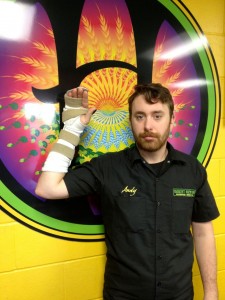 Harriet delivery driver extraordinaire and all-around nice guy Andy Heater had an unfortunate incident with a glass carboy that gave his right hand the business recently,and the crew at Harriet would like to help him out. The incident left Andy with a pile of bills and sadly, no "Vader-like replacement hand." Medical bills suck. Carboy shards suck, too. Let's all lend a hand!
Homebrewers – here's a competition for you. Hopefully Andy will get to help judge.
The Handy Andy Homebrew Competition guidelines:

Beer must be an Ale – no lagers, meads, or specialty beers like smoked beers or sours
Entrants must pick up an entry form from Harriet Brewing and submit 2 bottles of each beer and the $10/beer entry fee by April 28th.
Midwest Supplies is offering a 10% discount to participants who bring in an entry form
Winners will be notified during the first week of May, and formally announced on June 9th at the Handy Andy Benefit.

The Top 3 highest scoring homebrews will win the following:

Brew a 10 gallon batch of their beer with Paul Johnston, Harriet's Head Brewer, that will be featured in the Harriet Brewing Taproom on June 9th for the Handy Andy Benefit.
All of the sales from those beers will go to help fund Andy's recovery.
If you're more of a non-beer creative type (say one of the 10,000 unemployed graphic designers in the Twin Cities), perhaps this will give you a portfolio piece that your future boss may love.
Handy Andy Label Competition guidelines:

These winning designs will be both a magnet label on tap at the brewery and posters printed as well.
Dimensions must be scalable to 2.3 x 4.5 inches and have a .125 (1/8) inch bleed to be made into tap handle magnets.
Artwork and entry form must be turned in at the brewery no later than Saturday, April 28th. There will be a "people's choice" judging over the course of May 2nd -16th at Harriet Brewing. Ballots will be counted and winners announced afterwards
Original artwork as well as a PDF version must be submitted.  Originals will be displayed in the tasting room for voting and the winners will be featured at the June 9th event.
The Handy Andy Benefit will be on June 9th, starting at 1pm at the Harriet Brewing Taproom
More information regarding the festivities for the day of the Handy Andy Event to follow.
For more information or questions regarding sponsorship, please contact:
Ginny Herman
Ginny@harrietbrewing.com
612-388-8855