Before Steel Toe Size 7, there was Masala Mama. Before Surly Darkness, there was Czar Jack, and long before barrel-aged beers were popular—Town Hall was putting beer in barrels. Nineteen years ago a young Pete Rifakes opened the doors to the Seven Corners mainstay, in hopes of bringing great beer to the Twin Cities. To say that he has accomplished that is an understatement.
At the time, brewpubs were where you went to get a great beer. Summit and Schell's blazed the trail but you often purchased their selections at the liquor store, or at an upscale bar here in the Twin Cities. Places like Minneapolis Town Hall Brewery and Sherlock's Home were where you went to find something different, or particularly interesting. You weren't "hip" if you were seeking these beers out. You were probably a homebrewer or a beer geek looking for inspiration. These are the kind of people that keep head brewer Mike Hoops around after 16 years. "The nice thing [working at a brewpub] is you've got direct interaction with your customer base" he says. "As long as we're making good beer they'll keep coming in. Our growth is limited, but our fingers are the only ones on our beer. I really like this environment" said Hoops.
Brewpubs also tend to have a little more freedom to play around with different styles partly due to the batch sizes being smaller. It's super fun making different beers" he says. "Let's give 'em a reason to keep coming in."
Hoops (formerly of Fitger's Brewhouse) was hired on in 2000 after their original brewer John Haggerty left and things could not have worked out any better. Minneapolis Town Hall Brewery has since taken home 15 Great American Beer Festival medals and changed the way we think about beer here in Minnesota. Their Masala Mama IPA was the number one rated American IPA on both Beer Advocate and Rate beer for years.
To celebrate 19 years, the brewery will release Three Hour Tour Coconut Milk Stout, Mango Mama (a mango version of their influential IPA Masala Mama), along with some barrel-aged releases later in the week.
Mango Mama was born at an Indian restaurant where Hoops and some of his brewers were enjoying a meal back in 2007. They ordered their food extra spicy he remembered and they wanted to cool their mouths off. "We ordered a Mango Lassi [Indian Yogurt drink] because our mouths were burning, and the fruit sweetness mellowed out the spice." They played with recipes and found one that worked, deciding on the name Mango Mama.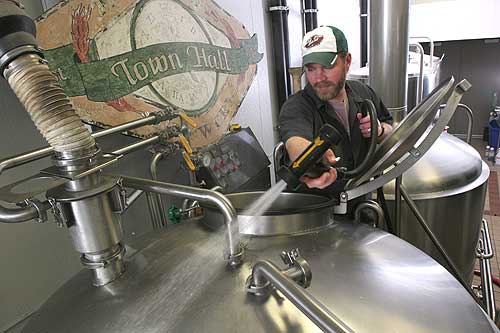 Hoops wondered if he could do something similar with a Stout so he played around tirelessly with different forms of coconut before finally settling on coconut chips. That beer would be called Three Hour Tour (a personal favorite of mine), a Coconut Milk Stout.
What does the future hold for Minneapolis Town Hall Brewery? "We're starting to mess around with sours. It's on the horizon" he says.
If there's one thing to celebrate with the West Bank brewpub, it's that consistency, quality, and innovation are a recipe for success. Just ask your favorite brewer, it's where they go drink and learn about beer.
Anniversary Week Schedule:
Monday, Oct 24: Double Beer Release! Anniversary Ale & Three Hour Tour | 5pm
Tuesday, Oct 25: Anniversary Beer Dinner | 7pm
Wednesday, Oct 26: Mango Mama in Pints & Growlers (64oz growlers available) | 5pm
Thursday, Oct 27: Beer Trivia at THB with Trivia Mafia | 730pm
Thursday, Oct 27: Throwback Thursday Menu | All Day
Friday, Oct 28: Barrel Sampler (Manhattan Reserve, Twisted Trace, and Buffalo Bock) | 5pm
Saturday, Oct 29: Free Brewery Tours | 12-5PM
Saturday, Oct 29: Russian Roulette Release | 11AM
Cheers!