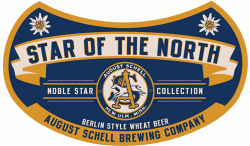 Back in February, we told you about the Noble Star Collection from Schell's, a series of beers based on the Berliner Weisse style. We're excited to share that you'll start seeing these the beer on select shelves later this week.
The beer was hand-filled, hand-labeled and bottle conditioned after spending time maturing in Schell's 30s-era cypress wood lagering tanks. (See a 2008 article on the tank restoration here.) Read on for the press release.
In 1860, German immigrant August Schell broke ground for the August Schell Brewing Company and paved the way for a 153-year-old family tradition. In 1891, the thriving brewery was passed on to August's son Otto, a Berlin-trained brewmaster—whose many improvements to the brewery included the construction of the brewhouse and cellars, which are still used today. Four generations later, current President Ted Marti and his son Jace, also German-trained brewers, revived a very rare cypress fermentation tank, purchased by Alfred in 1936 and located in a cellar built by Otto, for their newest Berlin-style wheat beer series: the Noble Star Collection.
After occupying Berlin in 1809, Napoleon's troops adoringly referred to the tart and effervescent white beer of the city as "The Champagne of the North." In honor of this beer style, its history, and Minnesota's great state motto, Schell's crafted "Star of the North," their interpretation of a traditional Berliner Weisse. They used an authentic mixed culture of yeasts and bacteria from Berlin for fermentation and aged it in one of their original cypress wood lagering tanks from 1936. The long secondary fermentation in the wooden tank allowed the defining characteristics of the beer to develop. It was then hand-filled, hand-labeled and bottle-conditioned, which allows it to continue to develop and evolve. This beer will be available in select liquor stores later this week. Enjoy it straight in a pokal glass or mix in a shot of sweet raspberry or woodruff syrup, as is traditionally done in Berlin.
Info/ Flavor Profile:
This beer is extremely pale yellow in color with a slight haze and a large, creamy, snow-white foam head. This beer is rather light on the palate and very dry. A lively carbonation accentuates the refreshingly tart acidity. Expect an interesting mix of fruity flavors reminiscent of ripe lemons and apple juice with a touch of spice and a subtle brett character.
Beer Statistics:
Original Gravity – 8o Plato
3.5% Alcohol By Volume
4 International Bitterness Units
Serve in a Pokal glass
Malts: Pilsner, Wheat
Yeasts: German Ale Yeast, Brettanomyces, Lactobacillus (Bacteria)
Maturation Vessel: Schell's original 1936 cypress wood lagering tanks.
Beer Statistics: 60 U.S. Barrels, 12 x 750ML Bottles