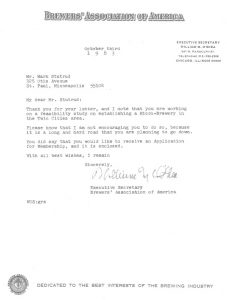 Thirty years ago Top Gun was all the rage. That was 1986, the same year that Summit Brewing opened its doors in an old building that used to sell truck parts on University Avenue in St. Paul. To say this was a humble beginning is an understatement as founder Mark Stutrud received a letter from the Brewers Association back in 1983 during the early planning stages advising him not to attempt such an endeavor.
That was just one of the many challenges for Mark, challenges that microbreweries today do not face. For one, there was no blueprint for a small brewery to succeed in the midwest. At that time was no such thing as a microbrewery. "Thirty years ago there was no regional point of reference as far as other small breweries were concerned – 'microbrewery' was not in the wholesaler's or retail customer's vocabulary. The idea of 'craft beer' didn't exist in the drinker's mind. The beer landscape was sterile" says Stutrud.
Two of the beers they produced that first year would pioneer a movement toward beers with a little more flavor, beers that would challenge palates on many levels. Those two beers of course are Summit Extra Pale Ale and Great Northern Porter.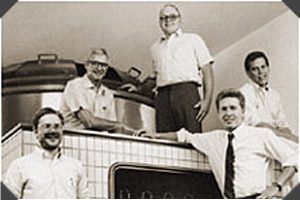 Summit EPA seems to be the most established and well-known variety that they make and the beer itself was born with a local touch. "The 'extra' in EPA was a reference to the love that we put into our beer [the overused word passion wasn't in fashion in 1986]. The flavor profile of projecting a malt structure with a definite hop balance was a direct reference to the fact that we live in 'barley country.'  We didn't realize at the time that we were creating and establishing a specific style."
Great Northern Porter was a complete gem of a beer upon its arrival. Even storied beer journalist Michael Jackson loved it. It was so good that it earned Summit a Gold medal at the Great American Beer Festival in its first year. "Great Northern Porter was the second beer that we introduced in late 1986" says Stutrud. "At that time, we were one of five breweries in the WORLD that produced a porter. Great Northern Porter received a Gold Medal at the 1987 Great American Beer Festival. Michael Jackson had a deep respect for our beer" he stated.

If there's one thing that's true about Summit back then and now, it's that quality always comes first. People can say what they want to about Summit not making a crazy one-off beer that sets beer fans abuzz, but the fact of the matter is that they want to make beers that they know how to make—and they make them great every time.
They started the Unchained Series as well as the Union Series to allow their brewers to experiment a little with different ingredients, and to inspire their creativity. All of the beers they make are brewed on a state-of-the-art system that is admired by many across the country. In fact, it's what separates them from the other local breweries and from those across the country. "No other brewery in the region takes quality assurance to the deep level that we do. These attributes and qualities not only separates us from local breweries, but it distinguishes us on a national level" he says.
When he's not drinking a Summit, Mark enjoys Pinot Noir, margaritas, the Noble Star Series from Schell's, Anchor Steam, and Liberty Ales, an occasional Steel Toe, and a Budweiser from his neighbor.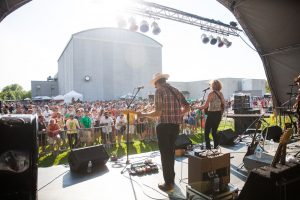 Summit is celebrating 30 years with a Backyard Bash at the brewery (910 Montreal Cir, St Paul, MN 55102) headlined by local punk legend Bob Mould (formerly of Hüsker Dü and Sugar) and taking place on Saturday from noon until 8 pm. You can grab tickets ($30) online here or at Electric Fetus in Minneapolis. There will be plenty of music and food trucks where you can purchase food. Part of the proceeds will go to Minnesota Music Coalition, an organization that Summit is proud to support. "The originators of this relatively new non-profit organization asked me to serve on the Board of Directors to an entrepreneurial and business perspective.  MMC has become an effective change agent for the independent music scene in Minnesota" says Mark. The band schedule (descending order) is as follows:
6:00 pm – Bob Mould
4:40 pm – Bully
3:35 pm – Dem Atlas
2:30 pm – Bad Bad Hats
1:25 pm – Apollo Cobra
12:20 pm – Nooky Jones
12:00 pm – Hotpants Minneapolis Minnesota (and between all live sets)
Food trucks on site include: The Anchor Fish & Chips, the Black Forest Inn, Bennett's Chop and Railhouse, Pizza Lucé, Signature on Wheels, World Street Kitchen, FrioFrio MN and PoppedCorn.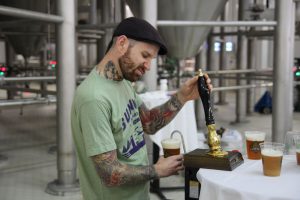 Summit has 30 years under its belt, and they are taking the appropriate amount of time to reflect while still moving forward. Their 30th Anniversary beers are some of the best beers they've come up with in recent years and they are not going to stop anytime soon. "Several individuals have asked me if I ever stop and look at what 'I've' created…There is an awesome and overwhelmed look on their faces when they tour the brewery."
A brewery that will most certainly live to see 60.
Cheers!