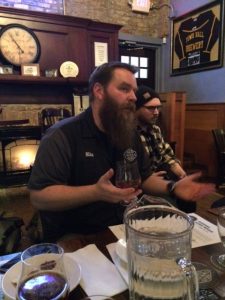 Barrel-aged beers are trending in Minnesota and across the country. Minneapolis Town Hall Brewery has always been ahead of the trends here in Minnesota winning a gold medal in 2001 at The Great American Beer Festival for their Russian Imperial Stout, Czar Jack.
Minneapolis Town Hall Brewery is celebrating Barrel-Aged Week beginning on Sunday, February 19th at 10 am with the pre-sale of 750 ml growlers. This means that you will wait in line to get tickets which will allow you to return to the brewery the day that beer is released and pick up your growler. There will be new beers released every day of the week beginning with the Foolish Angel Series.
Barrel Selection:
The art of barrel-aging beers begins with the barrel selection process. Head brewer Mike Hoops heads down to Kentucky every year to select the whiskey barrels that he will use to concoct many of these beers. There are a multitude of factors that go into choosing the correct barrels. Most bourbon barrels are made out of white oak from the southern portion of the United States. The barrels are then "charred" which mellows the tannins found in the wood and acts as sort of a carbon filter. This will contribute to the flavor of the whiskey, and afterwards the beer stored in the barrel.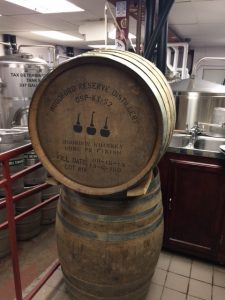 According to Town Hall head brewer Mike Hoops the barrels are an ingredient just like hops and grain. The base beer can be the same every year, but the beer will come out a little different each time. "Barrels are harder and harder to get now" says Hoops. Back in the year 2000 (the first year that he made Czar Jack) he was able to purchase that barrel from the Jack Daniels General Store. "We paid $45 for that first barrel, and $75 to ship it" he said chuckling.
One of the biggest factors is the level of humidity in the space where the barrel is stored. This often means that barrels that are stored higher up in the warehouse could be considered more desirable. Barometric pressure causes the bourbon (during first use) to penetrate deeper into the staves which creates the ideal vessel for imparting flavor into the beer during the barrel-aging process. Hoops wouldn't elaborate on the extent of his standards but it was clear in speaking with him that the level of char, and the depth that the whiskey penetrates the staves are important in this process.
Manhattan Reserve is one of the best barrel-aged beers made at Town Hall. The story behind it is just as interesting. Hoops' father-in-law loves a good Manhattan cocktail. Mike wanted to create those flavors in a beer and gave it a whirl. The result is nothing short of spectacular. This beer starts out as a Grand Cru on red tart cherries, and is then stored in Woodford Reserve bourbon whiskey barrels for a number of months.
This is the best event put on the brewery all year so you don't want to miss out. For the full schedule of releases, see below:
Barrel Aged Week Release Schedule 2017:
Sunday, February 19th | 10am
750ml Growler Pre-Sale | If you're looking to take home this year's barrel-aged releases, this is your chance! Tickets go on sale at 10am; beers can be picked up once they are released on tap.
Monday, February 20th | 5pm
Foolish Red | Belgian-style Quadrupel aged in French oak red wine barrels.
Foolish Angel | Belgian-style Quadrupel aged in bourbon barrels.
Single Barrel Reserve Foolish Angel | A very special single-barrel offering.
Tuesday, February 21st | 5pm
Manhattan Reserve | Belgian-style Grand Cru with red tart cherries, aged in bourbon barrels.
Wednesday, February 22nd | 5pm
Twisted Trace | American Barleywine aged in bourbon barrels.
E.T. Wee | Scottish-style Wee Heavy aged in bourbon barrels.
Thursday, February 23rd | 5pm
Eye Wine Red | Minnesota Honey Ale aged in French oak red wine barrels.
Eye Wine White | Minnesota Honey Ale aged in American chardonnay barrels.
Le Baltique | Baltic Porter aged in French oak red wine barrels.
Friday, February 24th | 5pm
Project 3106 | Belgian-style Strong Brown Ale with kumquat and chocolate, aged in bourbon barrels.
Buffalo Bock | German-style Weizenbock aged in bourbon barrels.
Saturday, February 25th | 11am
Czar Jack | The grandaddy of them all. Russian Imperial Stout aged in Tennessee whiskey barrels.