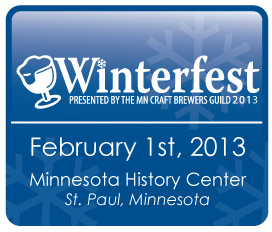 UPDATE: Seasonal Six Pack tickets are SOLD OUT for the year.
We talked about this change-up a bit earlier this season, but things are now finalized. Your very first opportunity to buy Winterfest tickets will be on December 1st at noon as part of the Minnesota Craft Brewers Guild's "Seasonal Six Pack Holder," which will include a pair of tickets to All Pints North, Autumn Brew Review and Winterfest. This ticket pack runs $290. If you've ever sat in front of a keyboard waiting to order Winterfest or ABR tickets, you'll likely find this a relief… and you'll have an excuse to visit Duluth for All Pints North, which was a really great event this summer.
This year's Winterfest takes place on Friday, February 1st from 7-10pm at the Minnesota History Center. Tickets for this event will be $75 and will go on sale on Monday, December 10th at noon. Mark your calendars!
For those unfamiliar with the event, Winterfest is the Minnesota Craft Brewers Guild's premiere event, highlighting Minnesota breweries and brewpubs. Breweries and brewpubs all put their best foot forward and bring some of their rarest, most-interesting, and just plain weird beers to this event. There's really nothing like it. No bones about it, this event isn't cheap, but I try to remember that the Guild is a non-profit and this is a special event. It's not for everyone, and that's okay.