2014 was a busy year for beer. So busy, in fact, that I second guess myself as I sit down to write this… did I forget anything? Let's hope not. It was a banner year for new breweries and a number of projects are hot on their heels for 2015. This year was once again the year of the taproom with a variety of openings from new brewers as well as established breweries. Needless to say, we don't see the trend ending in 2015.
The number of breweries grew significantly this year with the addition of about 21 new breweries and brewpubs in the state. Our new brewery count includes Bauhaus, Burning Brothers, EastLake, Fair State, Gull Dam, Insight, Lazy Loon, LTD Brewing, Lupine Brewing, LynLake, Maple Island, Montgomery Brewing,  Pryes, Schram Vineyard Winery & Brewery, Sisyphus, Take 16, Tin Whiskers, Urban Growler, and Waconia. Bank Brewing also built their own brewery after brewing at other facilities for several years. We also added two new brewpubs to the ranks with the all new Day Block Brewing and a new brewery at the well-established Grand Marais watering hole, Gun Flint Tavern.
At least nine breweries moved into newer, larger locations and countless expansion projects took place over the course of the year. Try keeping track of every brewery that got new tanks… we dare you.
You still can't buy off-sale beer at a liquor store on Sunday. Unless you like the 3.2 grocery and gas station options, you're out of luck on a Sunday. Our friends, MNBeerActivists, fought the good fight, but it just didn't happen this year. You can't buy a growler on Sunday, either. You can, however, buy a bottle of wine at a farm winery in Minnesota on a Sunday.
Let's take a quick stroll down memory lane and touch on our top stories from the previous 12 months, shall we? Later this week we'll explore a few predictions for 2015.
January – Roseville's Pour Decisions and Bent Brewstillery joined forces under the Bent Brewstillery moniker. Nearly a year later, it seems entirely natural to see Bent Brewstillery Maroon & Bold and other brews on the shelf  that scream "Kris England made me" on the shelf next to Dark Fatha and Nordic Blonde.
Runner up: Day Block Brewing launched as a new brewpub/pizza joint in the old Spill the Wine location on Washington in Minneapolis. Beer flights, bacon flights and great pizza? I'm in. They're also positioned nicely for the launch of the new Vikings Stadium opening in 2016.
February – Barley Johns announced plans to open a brewery in Wisconsin. Owner John Moore has never minced words about the fact that he feels that changes to Minnesota law favor breweries over brewpubs. "I would rather have done it here, two minutes away, but that's not the way it is," Moore said. "The law is not in favor of brewpubs. It's in favor of breweries."
March – Finnegans Reverse food truck took a twist on the traditional food truck by gathering food for the hungry. Launched in March, Finnegans set a goal for the truck to raise $5000 that month. Very cool concept.
April – Minneapolis Town Hall Brewery reopened after a massive reconstruction. We missed them when they were closed. A lot. Not missing a beat, they followed up the reopening with an amazing Barrel-aged Week.
May – We learned more about what goes on in August Schell's "E" cellar. Schell's Noble Star series of Berlinner Weisse beers have been a fascination for the MNBeer crew since the start.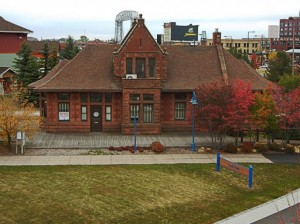 June – The Fitger's Brewhouse crew announced the opening of Endion Station Public House in the historic depot that the organization had purchased in Canal Park.
July – Crafted to Last, a Minnesota beer documentary, made its debut in the Twin Cities and Duluth. No doubt filmmaker Dave Okar worked his ass off on this one. Visit their Facebook page for details on getting your hands on a copy of the film.
August – The Land of 10,000 Beers returned to the Minnesota State Fair, adding Firkin Fridays and rare flights to an already amazing Minnesota beer experience. Sadly, 2014 was also the year that some asshole chose to rob said exhibit. 🙁
September – September was the month that it seemed as if a new brewery opened each week. Pryes Brewing, Fair State, Gull Dam and Maple Island. Not bad.
October – Minnesota breweries brought some nice bling home from the Great American Beer Festival in Denver. Badger Hill and Steel Toe took home gold medals, Indeed and Town Hall took home silver medals and Summit and Bent Paddle won bronze medals.
November – August Schell Brewing Co. announced plans to buy the historic Grain Belt sign, preserve it and eventually light it up again. The sign has been dark since the mid-90s.
December – You might have missed this one, but take note… Surly Brewing Co. opened a taproom in SE Minneapolis.