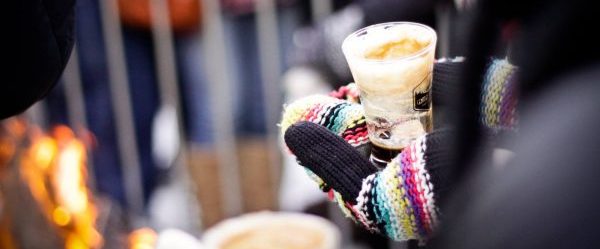 One of the longest running (8 years) winter beer fests in Minnesota is set to take place on February 4th at the Minnesota State Fairgrounds. Tickets are on sale for $45 in advance, or $55 at the door. The event kicks off at 2:30 pm and ends at 6:30 pm. The Winter Dabbler promises some unique offerings from reputable breweries and new breweries alike. We dove in and found some that should be worth checking out.
Twisted Zweig from Forager Brewing – The version they offered with currants late last summer was one of our favorite beers of 2016. A fantastic version of a Berliner Weiss from the folks in Rochester.
Driftless Dry from Wyndfall Cider – Cider is a beautiful thing, especially when it's made right. The folks at Wyndfall are very passionate about their products, and a super dry cider made from heirloom apples sounds pretty fantastic.
Winter Flannel from Lucette Brewing – A winter warmer made with chocolate malt. These are typically malt forward and full of flavor. A classic choice for an outdoor event in January.
Salted Caramel Quadrupel from Birch's on the Lake – It's hard to find a well-made Belgian here in Minnesota, but when your brewer comes from Schlafly in St. Louis it carries weight. Expect this to be a big beer, rich red or even brown in color, and high in alcohol content but heavy on flavor. This one ought to warm anyone up.
Tuque Black Saison with Juniper Berries from Fair State Brewing Cooperative – What doesn't Fair State do well? Expect more of the same with this Saison featuring the key ingredient in gin, juniper berries.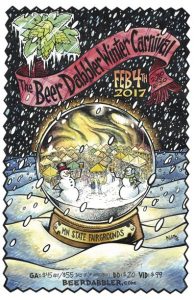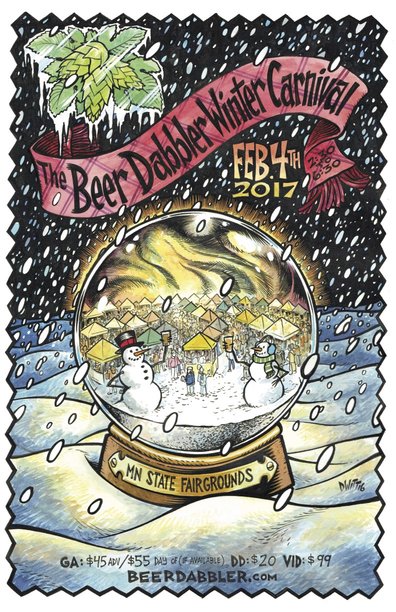 Calamity Russian Imperial Stout from Bad Weather Brewing – Andy Ruhland is running a great brewing program over on West 7th, and this chocolate forward Russian Imperial Stout should be sought out by fest goers. Originally released in their taproom in late October, this beer is designed to get you through winter. But be careful, this will sneak up on you.
Last Fathom Dark Lager from Lake Monster Brewing – This looks to be another somewhat sessionable go-to weighing in at only 5.5% ABV. We're suckers for a good Dunkel, and this one features wild rice and is low on the bitterness.
Golden Nugget from Toppling Goliath Brewing – This hop heavy beer features Golden Promise malt (a favorite for showcasing hops) along with the classic hop variety know as Nugget. Nugget hops tend to have earthy/herbal tones and serve as great bittering hops. IPA lovers rejoice!
Warm Beer with Mulled Spices from Olvalde – If you haven't tried any of the offerings from Joe Pond and his brewery based in Rollingstone, MN—you're really missing out. This small operation puts out fantastic beer made with ingredients found on his farm. This warm beer will serve as a nice change of pace and should warm you up from the inside-out.
Cheers!