[Thanks to new MNBeer contributor Eric Meinz for this one! From his "Don't" list, #4 is my biggest pet peeve. -Ryan]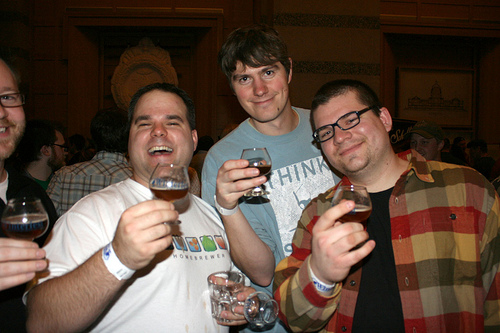 It seems that at any given time in Minnesota there is some type of festival, fair, circus, fest, carnival, jamboree, gala or fiesta (I personally prefer an always classy soiree) to which people flock. These events range from tiny to gigantic, serene to raucous, irrelevant to relevant or anywhere in between. The subject manner of these can be just as diverse (or asinine) as my descriptors. But out of all of these events, one style has a very special place in my heart: the beer festival.
My favorites in particular are large format beer festivals such as the Saint Paul Summer Beer Fest, The Beer Dabbler, Autumn Brew Review and the upcoming Twin Cities Beer Fest. Nothing beats being let loose in a confined area with countless craft beer vendors, an unlimited beer tasting glass and hundreds, if not thousands, of fellow beer geeks.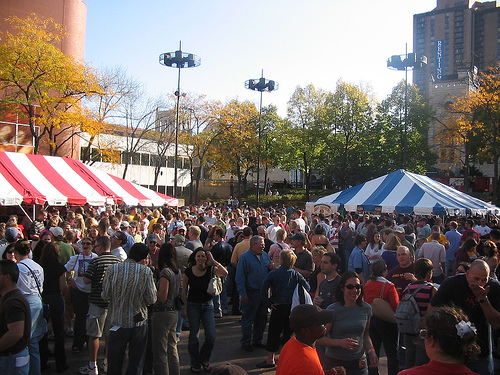 Although scores of local beer geeks have previously attended beer festivals locally or around the country, there are many who have yet to experience the glory of a beer festival and don't know what to expect. So what should a beer festival newbie expect? Well, most beer festivals have the same basic premise: There are a number of breweries and brewpubs that bring their delicious beer for the attendees to sample. The participants are given a small tasting glass in which to taste the fruits of the brewer's labors. Sometimes unlimited samples are given (generally the popular option); sometimes you have a limited number of samples.  Either way, you have a license for tasting some fantastic brews, meeting some awesome people and just having a terrific time.
Every time I go to a beer festival, I learn a lot. Most importantly, I become more seasoned in the ways of the beer festival strategies and etiquette. By no means am I a master at etiquette…Just ask my mother or the old lady I cut in front of at the grocery store, but I have been to enough beer festivals to compile a helpful list of do's and don'ts for the beer festival newbie.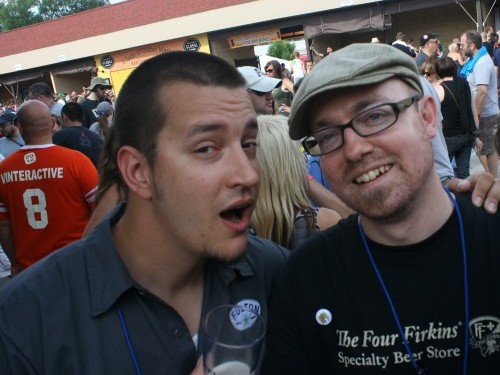 DO:
–        Hydrate – Make sure you drink plenty of water. The summer events can get very warm in the afternoon heat and with the cornucopia of alcoholic beverages that surround you, one often forgets to keep hydrated. You will appreciate proper hydration as the day goes on and especially the next morning.
–        Eat– More than likely, you are not a fasting monk and this is not lent. While you are encouraged to enjoy plenty of liquid bread, it is a fantastic idea to eat some real bread (or other solid food) beforehand.
–        Make Pretzel Necklaces – Sure they look goofy, but no one cares what you really look like once the beer starts flowing. Plus, you will have a handy snack during your beer tasting bonanza.
–        Find a Sober Ride – DO NOT DRIVE HOME! Please, find an alternate route home; it's not worth the risk to yourself or others. Most festivals will offer a reduced price tickets for designated drivers. Otherwise, plan to have a sober person pick you up (be careful if that person is your pregnant spouse or buddy who couldn't get a ticket. Their tolerance could run dangerously thin…) or take a taxi cab home. The bus and light rail also make great rides home.
–        Have Plans for After the Beer Festival – Remember the Semisonic song "Closing Time"? As Dan Wilson would say, you don't have to go home but you can't stay here… Know where you are going after the festival. I generally recommend eating and having a few glasses of water before hitting up special events and tappings that many local bars and restaurants will have after the fest.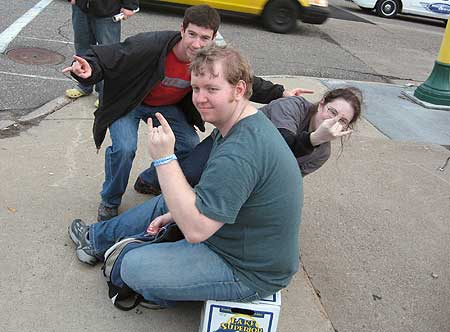 –        Go Outside of Your Comfort Zone – It's OK to venture away from what you usually stock your fridge with. If you are scared to death of anything with the words imperial, extra or double in the title, this is a great time to try some. That little tasting glass is yours to command. You alone control your discovery destiny. At my very first beer festival, I tried a few "disgusting" saisons. It is now one of my favorite styles. Don't miss that opportunity…its more magical than Hogwarts itself!
–        Look at the Program Ahead of Time if it's Available – It's a great idea to get familiar with the layout of the festival and what offerings will be there. You should also keep in mind that most breweries bring surprises that may not be published. So pay attention to the booths while passing. My strategy is to make a top ten list and hit those booths up first. I do this for two reasons:
Your palate is a fickle thing. It will suffer from tasting fatigue and I like to pick out the beers I want to taste most right up front while my palate is fresh. I have had more than one beer I loved while late in a tasting session but hated fresh. It is depressing to have that prince or princess turn back into a frog.
The best stuff won't last long. Plain and simple. If there is a rare release from a popular brewery, you better get it right away. If you wait for an hour or two, there is a good chance the keg/cask/bottles will be as dead as Paris Hilton's acting career.
–        Talk to the Brewers and Brewery Reps – This is the best way to learn more about the wonderful elixir you are tasting. They know it better than anyone, so use that to your advantage.
DON'T
–        Drink Like it's Your Last Day on Earth – The world isn't ending today (unless it's December 21st 2012. Then it very well may be ending). You don't have to try every single beer and you don't have to finish every beer. The sun will rise tomorrow (probably) and you will be able to go to your local beer store and try what you missed out on. On the same note, don't think twice about dumping a beer you don't like or don't want to finish. Really.
–        Worry About Getting Separated from Your Group – People wander off all the time. I usually try to stay focused on the booths I want to visit and if I get separated, I keep my eyes on the prize as opposed to spending that time searching for my group. A popular strategy is to pick a spot to meet up once an hour or some interval of time. When in doubt, you can always wander to the bathroom. Everyone ends up there eventually.
–        Limit Yourself to Your Usual Beers – So this is pretty much the same as "Go outside your comfort zone", but it really is important to stretch your boundaries. Don't miss a golden opportunity like this!
–        Stand in Front of the Booth After Getting Your Beer – Its ok to linger if you are talking to a brewer or brewery rep on the side, but if there is a line, please move out of the way. We all love beer, but no one wants to fight like a fish going upstream to get a beer. Unless you are part salmon. Then it would be pretty awesome.
–        Be a Jerk – This is pretty self-explanatory. Some people have an easier time with this than others, but the common courtesies of the real world still apply in beer festival world. Say please and thank you, don't cut in line and just generally try to be in a good mood. No one goes to a beer festival to have a bad time…
–        Drop Your Glass – First off, you need your glass to drink with. Keep it safe and treasure it. It is your best friend until the end of the festival. Secondly, you will be humiliated beyond belief if you drop your glass. It is a time honored beer fest tradition to heckle the living heck out of someone who breaks their glass.
–        Throw Self-Control to the Wind – A beer festival is not a good place to overindulge. If you need a break, take one.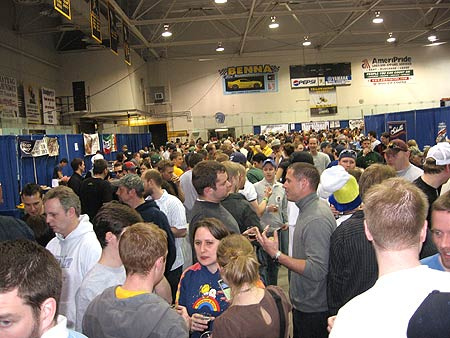 I grant you that this may not be a complete list of strategies or schools of thought for beer festivals, but it's a decent start. With this you should be able to pick up a few good ideas and hopefully avoid a few bad ideas as well. Whatever your approach is, you should try to maximize your enjoyment. You are at a beer festival to enjoy yourself, so do it! Cheers!