[Thanks to new contributor Tyler Bye for this story. We look forward to checking out all of the new developments in Nordeast! -Ryan]
A new brewery specializing in session beers is preparing to open in Northeast Minneapolis.  For anyone who has had the pleasure of sitting down with any of the three members of Northgate, you will see that their enthusiasm for beer comes across and smacks you in the face like a 190 IBU IIPA.  That's ironic, because they are setting out not to brew hop monsters, but rather the olde English style ales that require freshness, and by virtue, proximity to the source to enjoy properly.
Northgate is a brewery founded by Todd Slininger and Adam Sjorgen with Tuck Carruthers as the head brewer.  The goal of this brewery is to recreate the English Isles here in the Midwest.  In doing so, they hope to introduce more Minnesotans to English session ales.  The three Northgate members will probably end up writing a book with their knowledge on the subject.
We know a lot of you love IPAs, and rightfully so. "India" is a part of IPA for a historical reason.  As you might know, English troops stationed across the sea needed their ale (who doesn't?).  In order to send drinkable beer across the seas, plenty of hops were added and the alcohol content was increased.  While preserving the beer, adding these hops created a beer with a higher than normal IBU.  Back home the townsfolk were drinking beer that was lower in alcohol and less bitter – session beers, essentially.  This is where Northgate comes in.  They aim to create flavorful English session beers.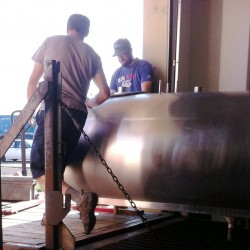 In order to properly enjoy English session ale, it must be fresh and nothing is fresher than the source.  Northgate will be opening a 7-barrel brew house in Northeast Minneapolis that will offering kegs and growlers of their Northern English Brown Ale to later this fall.  Initially to be called "Nelson," the flagship beer does not yet have an official name.  Within a year of opening, they hope to have a seasonal offering.
Northgate will be brewing on retrofitted food processing and dairy equipment at 3134 California St. NE.  The steam boiler was just delivered a couple of weeks ago, and they have been working with a consultant to ensure their brewery is properly constructed.
All three members have been homebrewers for years.  Todd started brewing, had a bad batch, and loaned his equipment to Adam.  This lit a fuse that had Adam brewing 1-2 batches a week.  Todd got his equipment back, and they've been brewing for the last 5 years.  For an MBA project, Todd wrote up a business plan for a brewery, playing with an idea that all homebrewers dream of.   The idea was well received, and the idea picked up steam.  When Todd quit his job, he spent his brief period of unemployment pounding out a sound business model.
A classmate of Todd's put her fiancée, Tuck, a Siebel graduate, in contact with Todd and Adam.  As former partner had just dropped out of Northgate, finding Todd was "serendipitous."  The three personalities mesh together to create a vision of passionate local brewing.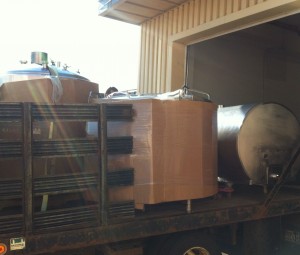 It seems like there are a slew of new breweries opening up in the Minneapolis beer panorama.  This boom of breweries has some thinking that the market won't sustain every entrant.  Northgate is thinking the exact opposite.  When compared to other destination brewing cities like Portland, the Bay area, and Denver, Minneapolis has plenty of room to catch up.  During this infancy of the Minneapolis scene, Northgate has found the other local brewing scene to be incredibly supportive.  "Rising tides lift all boats," says Adam.  As for the Northeast brewery explosion, "All old things are new again;" where Minnesota brewing started years ago, the culture is returning in force.   Tuck summed it up, " We're excited to join the community!"
Watch their progress at www.NorthgateBrew.com.