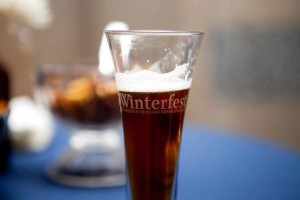 If you are fortunate enough to attend the 15th annual Winterfest on either Friday or Saturday, you are sure to get a taste of some of the best locally made brews. Here are some of the highlights for both nights.
Friday:
Apricot Vista from August Schell Brewing Company – The latest in the Noble Star collection was aged for a year before Jace dropped 4,800 pounds of apricots in the tank. That tank by the way is from 1936 and will be on display at Star Keller when it opens in May.
Cherry Double Shot Double Black from Bent Paddle Brewing – This Bourbon barrel-aged version of their Black Ale received an infusion of cherries along with double shots of Madagascar Vanilla and Cold-Press. Have we mentioned that the Cold-Press comes from Duluth Coffee Company? Enough said.
Cabernet Barrel-Aged Belgian Dark Strong Ale from Dangerous Man – This is one of my favorite beers that they've made over at their Northeast brewery. Stone fruits and sweet caramel are prominent in this complex brew that was aged for almost a year in an oak Cabernet barrel. Let this one warm up a bit in your hand a little while and you'll be rewarded.
300 from Fulton Brewing – All that really needs to be said about this brew is that it's one of the best locally made IPAs. Expect blueberry and tropical fruits on top of a clean Pilsner malt base. Somehow the folks at Fulton are making this happen year-round and you won't hear me complain.
Blackberry Gose from Junkyard Brewing – This Blackberry Sour Ale looks interesting and will be a nice change of pace from all of the really big beers being poured at the festival. Gose is an ancient German style of beer that goes back 1,000 years, and is unique in that it was traditionally brewed with salty water. Junkyard is based up in Moorhead so this also serves as a grand opportunity to get an introduction to their brews without the drive.
Saturday:
Imperial Cocoa Hefe from Blacklist Brewing – Chocolate and bananas will be the theme with this German-style Hefeweizen. Blacklist has always made interesting beers and they will now be able to better showcase them in their new space located in downtown Duluth.
Imperial Raspberry Truffle from Lupulin Brewing – I was able to try this version of their Porter at an event recently and I was impressed. The name of this one sums it up, big time chocolate with loads of raspberries. Who needs dessert?
2016 Fiddle Smasher from NorthGate Brewing – NorthGate is now 3 years old and they celebrated by releasing this Scottish Wee Heavy Ale. This version will be served from a cask and it tips the scale at over 8% ABV.
Saaz Pils from Minneapolis Town Hall Brewery – Sometimes there is nothing better than a clean Bohemian style Pilsner, especially when it's made by someone who loves them as much as Mike Hoops does. Saaz hops are known for their spicy and earthy characteristics and they are what define this style of beer. This is one of my favorite styles of beer hands down.
Gin Botanical Freewheeler from Sociable Cider Werks – This cider looks interesting on many levels. For one, this sat in Wander North Distillery's botanical basket and also on top of a bed of fresh spruce needles. Nothing says Minnesota like evergreens and apples.
Cheers!