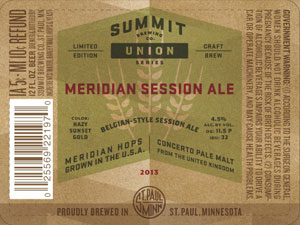 Summit Brewing Company launches the first in their Union Series, Meridian Session Ale the week of April 15th. We offered some hints as to the details of this beer back in February (read it here), but The Union Series will focus on brewing with new raw materials and ingredients, exploring the latest malts and hops in the industry. Meridian Session Ale will also the first beer to feature Summit's new packaging and logo.
"To create Meridian, we used Concerto malt, a new rising star in the UK, and Meridian hops, which was discovered by accident by a grower in Oregon," said Damian McConn, Head Brewer at Summit. "Both of these new ingredients combine nicely to create a very drinkable beer – simple in design and complex in character."
Meridian Session Ale is Belgian-style session ale, roughly in the Enkel (single) tradition. The combination of Concerto malt and Meridian hops results in a distinctive ale with a spicy, floral lemon aroma and clean bitterness.
Meridian Session Ale Specs:
AVB: 4.5%
IBU: 32
Color: Hazy sunset gold
Malt: Concerto Pale Malt
Hop: Meridian Hops
There will be a series of special events featuring the new Meridian Session Ale:
April 22: Earth Day Beer Dinner hosted by brewer Gabe Smoley – Barrio, Edina, 6pm.
April 23: Meet the brewer and sample the new Meridian Ale – Bunny's Bar and Grill, St Louis Park, 7-9pm.
Month of June:  Summit Tap Invasion, taking over 4 taps (including Meridian Ale) – Lyndale Taphouse.
May 1-11: Summit Tap Invasion, taking over 6 taps (including Meridian Ale) – Salut, Grand Ave. Join us on the patio on Thursday, May 2 from 4-6pm.
May 7: Summit Tap Invasion, taking over 7 taps (including Meridian Ale)– Old Chicago, Apple Valley. Meet the Brewer that day from 5-7pm.
May 15: Summit Tap Invasion – Old Chicago, Roseville. Meet the Brewer that dayfrom 5-7pm.
May 17:Patio Kickoff Event with Brewer Gabe and live music – Tally's, White Bear Lake, 5pm.
May 21: Beer Dinner with Summit Brewers Mike and Nate –Wooley's, Bloomington. 6 Summits also on tap including Meridian.
The Union Series will be limited in scale and will rely heavily on the availability of new ingredients. As a result, there will not be a set schedule for Union Series releases.